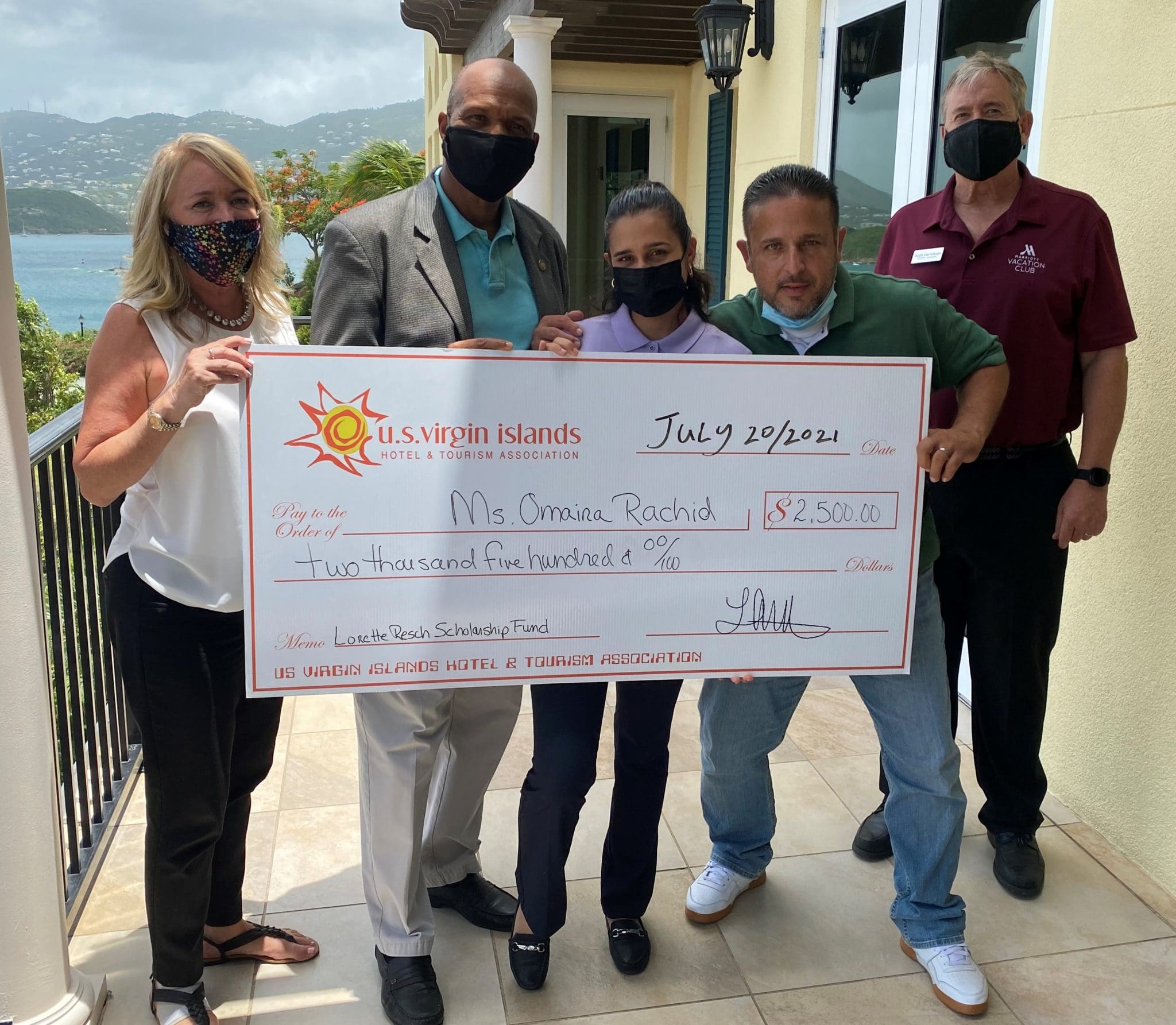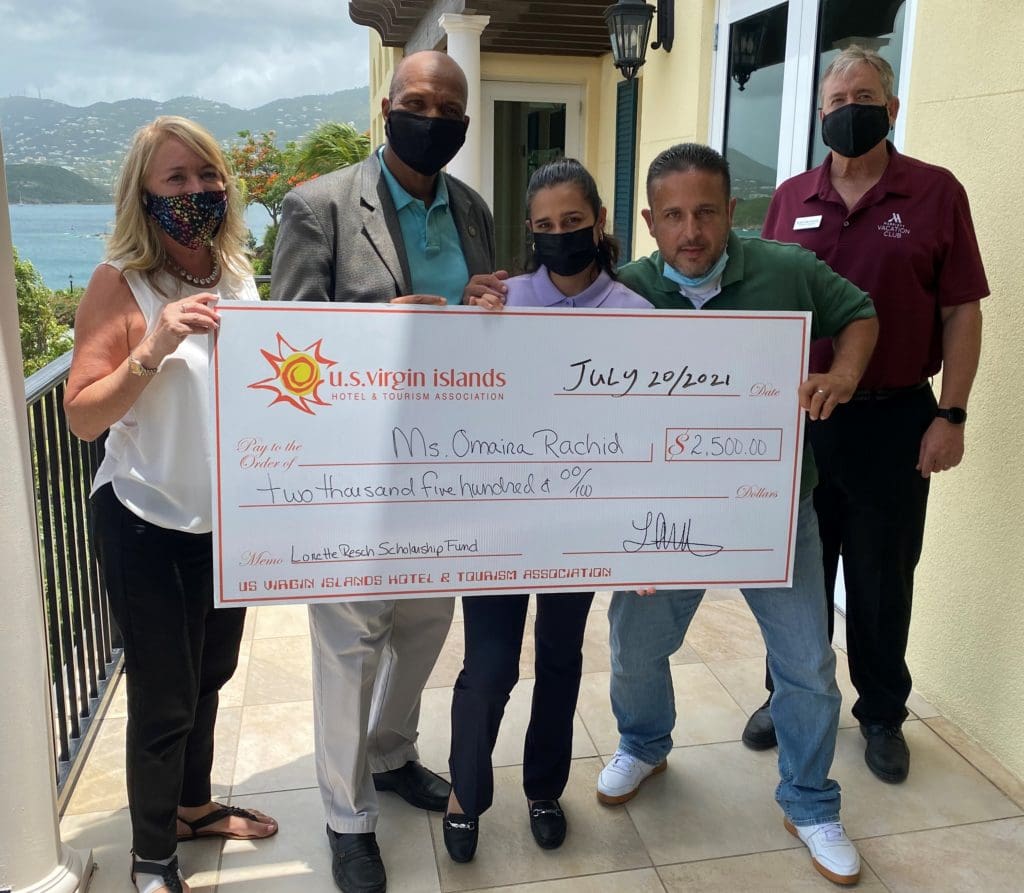 Omaira Rachid, a senior at the University of the Virgin Islands, is now a third time recipient of the Lorette Resch Scholarship, awarded by the USVI Hotel and Tourism Association's Education and Training Committee. Rachid was presented with $2,500 in scholarship funds on Tuesday at a ceremony held at Marriott's Frenchman's Cove where she works in the activities department, expanding on her industry knowledge while in pursuit of her degree.
"Throughout the last few years, the association has watched Omaira grow into an intelligent and confident professional while exceling in her studies, and we are honored to award her a scholarship for the third year running. She is an outstanding example of progress and perseverance as we restructure our industry amid a global health crisis. Students like Omaira set the standard for the future of tourism, and we look forward to the contributions she and her peers will bring to the industry," said USVI Hotel and Tourism Association President Lisa Hamilton.
"We are pleased that our scholarship recipient, Omaira Rachid, continues to demonstrate her achievement of excellence and interests in succeeding through her almost perfect high grade-point average at the University of the Virgin Islands. We are proud of her scholastic achievements so far, as well as her participation and involvement working as an understudy in the hospitality industry," said USVIHTA Education and Training Committee Chairman Sam Rey.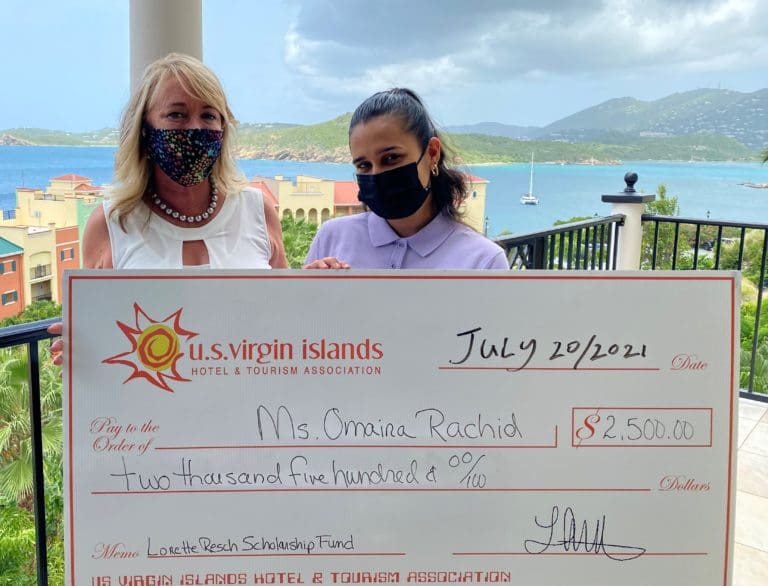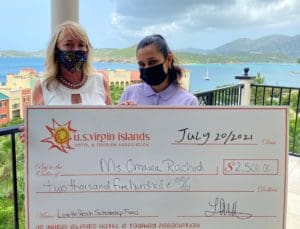 Rachid is entering her final year of UVI's Hospitality and Tourism Management program and is set to graduate in May 2022. With the support of Scott Derrickson, general manager of Marriott's Frenchman's Cove and immediate past chairman of the USVIHTA Board of Directors, and Rey, owner of Host U Services in addition to his work with the association, Rachid has catapulted into the local tourism industry and is poised for a successful career.
"This scholarship not only allowed me to further my education in the hospitality and tourism program, it allowed me to be able to continue being a part of the reason as to why people come to the island in the first place. This scholarship has given me the motivation and determination to continue making a difference in regard to the customer service aspect of tourism," said Rachid.
"I will continue being a part of the change in hospitality that will allow people to continue visiting and making unforgettable memories on the island," she said.
Despite the hurdles presented by the ongoing global health and economic crises as well as hurricanes Irma and Maria, the Lorette Resch Scholarship has remained a staple of the USVIHTA Education and Training Committee as it looks toward the future of hospitality and tourism. Supporting education and training allows the association and its members to usher in a new generation of tourism professionals who will aid the industry as it continues to recover and evolve.
Rey said, "Supporting our young people in achieving their educational goals and objectives is a high priority for the Virgin Islands Hotel and Tourism Association. During these tough times of pandemic related obstacles and opportunities, we, as an association, remain committed to ensuring that young people are given opportunities to fulfil their educational goals and dreams."
About the Lorette Resch Scholarship: The USVIHTA Education and Training Fund was established over two decades ago to aid youth who are seeking higher education with a concentration in hospitality. In 2014, the scholarship was posthumously named in honor of Lorette Resch, honorary member on the USVIHTA Board of Directors and scholarship contributor.
To be eligible for the scholarship, students must meet the requirements for admission into the hospitality/restaurant management program or business administration program at UVI or other USVIHTA approved hospitality schools. The applicant must be a U.S. citizen or permanent resident, and a resident of the U.S. Virgin Islands for at least five years. Applicants must also submit documentation from their high school, including transcripts and recommendations, as well as an essay.