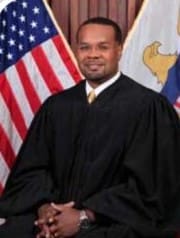 A federal judge has granted a pre-trial request from St. Thomas boxer John Jackson to get a new defense attorney. Jury selection for a pending trial in District Court was suspended on Monday for Jackson, accused of producing child pornography and related offenses.
U.S. District Court Judge Robert Molloy issued an order on Tuesday, granting the defendant's request for a change and also granting an extension of time for the trial to begin. Jackson sent a handwritten note from a federal detention center in Puerto Rico, saying his family now had the means to afford a private attorney. He also said poor communication with the court-appointed lawyer assigned to him threatened to deny him due process at trial.
Molloy accepted the substitute and delayed the start of the trial until the middle of next month. "The Federal Public Defender is hereby relieved as Jackson's appointed counsel. Jackson's retained counsel shall enter an appearance by no later than August 6," the judge's order said.
He then ordered a status hearing for Aug. 13 at 10 a.m. when a new trial date is expected.
Jackson, 32, is accused of having sex with a 15-year-old minor and capturing the encounter with a cell phone video, which investigators said he then sent to his own cellular device. In his July 16 motion for continuance, Jackson said his request to suppress evidence and to dismiss the charges was ignored by his court-appointed lawyer.