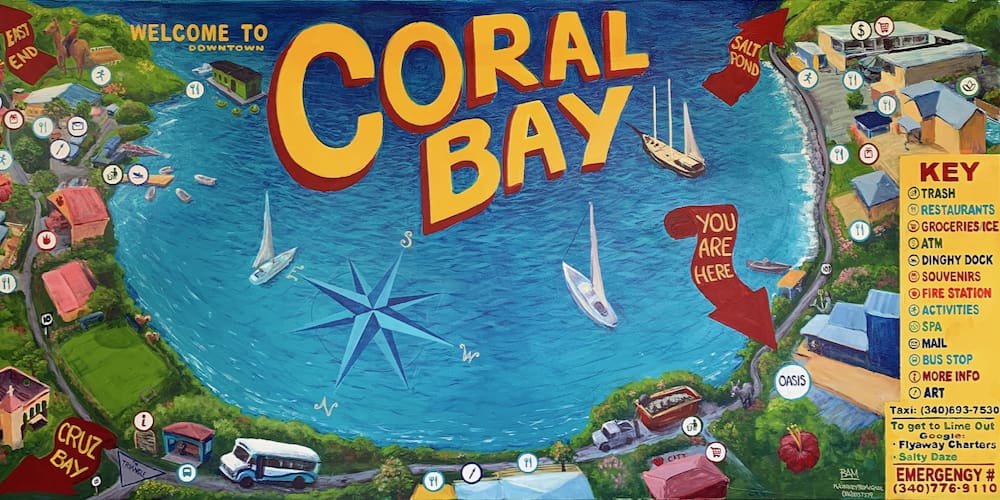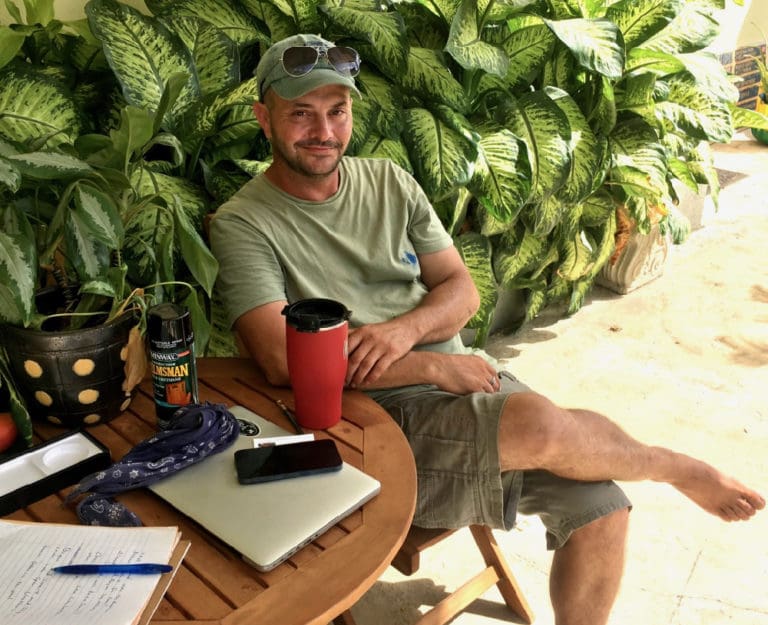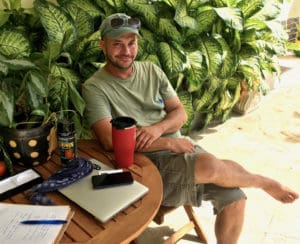 St. John has always attracted artists to its shores, and not all of them choose to show their work in a gallery. Some prefer a bigger "canvas," like a concrete wall or the side of a building.
Bryan McKinney is one of these artists, and although the public may not know his name, locals and visitors are becoming familiar with his work.
Locals stopping by Paradise Lumber & Hardware for their housewares and construction supplies can't miss McKinney's work; one of his paintings has brightened an entire wall near the entrance since April.
Karen Granitz, the owner of Coral Bay Caribbean Oasis (which is no longer a restaurant but remains open as an events center), recently hired McKinney to paint a sign to answer all the questions she typically gets asked by visitors.
"There are ten million people still here. They come off the boats and ask, 'Where can I put my trash? Where can I get ice?' Cars drive up and ask, 'Are you still open?'" Granitz said. "I thought, 'Wouldn't it be great to put up a sign to help visitors know what Coral Bay has to offer?'"
She has known McKinney for a while; he had retouched a mural painted by the artist known as "Paz" on the side of the restaurant some years ago.
Granitz and McKinney brainstormed about what information to put on the sign, then McKinney worked out a sketch. Last month the finished 4-foot by 8-foot painted plywood sign was posted at Oasis where passersby can easily see it.
Recently, McKinney was hired by the owner of a private residence to complete a mural in the courtyard above her swimming pool. Based on a popular photo that circulated on social media of donkeys drinking out of a fountain at Mongoose Junction, the mural creates the optical illusion of the donkeys drinking out of the pool.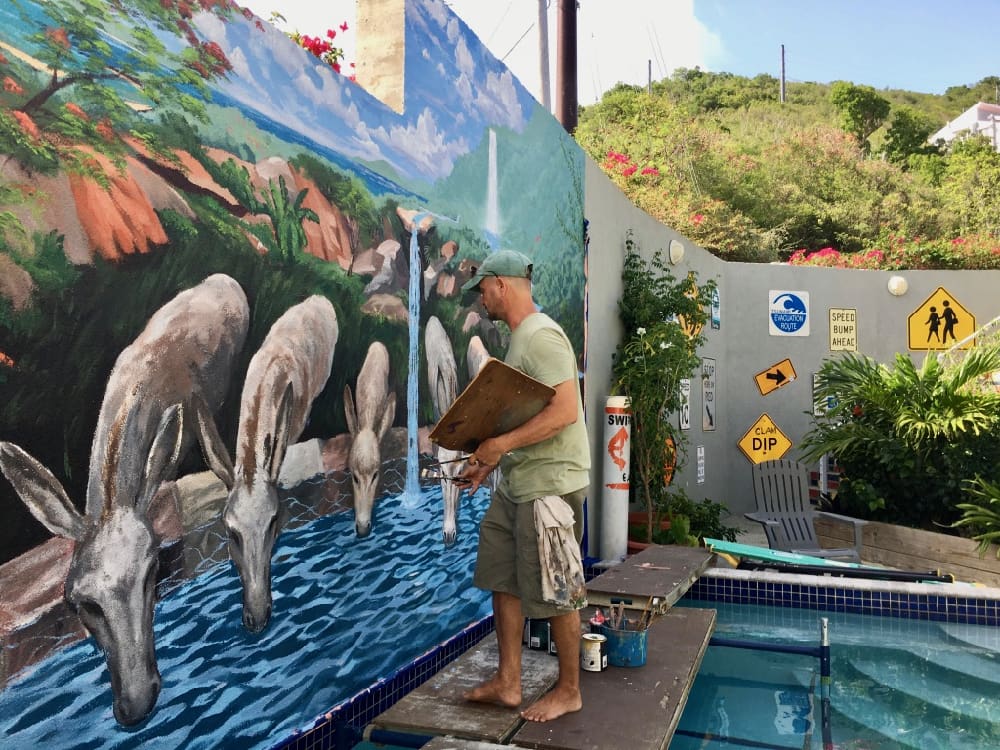 McKinney has lived on St. John semi-permanently since 2005. For years he worked on St. John during winters and moved near Alaska's Denali National Park in the summers.
"I'm a National Park junkie," he said.
Like many artists, he held a day job, often as a bartender at restaurants including Shipwreck Landing until it was destroyed by Hurricane Irma; then, like many residents following the storm, he started working as a carpenter.
A couple of McKinney's paintings have been displayed at SpaLaLa, a spa in Coral Bay, but he hasn't shown his work in St. John galleries. The mural at Paradise Lumber has brought him several commissions, and now painting has become his full-time job.
McKinney, who has a bachelor of fine arts degree from Missouri State University, said he's always considered himself an artist. "You're touched with it at birth, and I stayed with it," he said.
McKinney can be contacted by email at mckinneybam@gmail.com.