Having been told that his elementary school drama classes would have to be conducted online last school year, Crucian native Julio Petersen III, who teaches in Houston, Texas, created a children's show called "Mr. Pete's Playhouse," producing dozens of episodes during the course of the pandemic.
Those episodes are available on Amazon, Roku and YouTube. His YouTube channel alone has 916 subscribers and the videos have hundreds of views – with one drawing more than 1,000.
Petersen stars as Mr. Pete in the episodes, using the lifelong love of performing first nurtured in his St. Croix school years.
"I have been a performer all my life," Petersen said. "I started out in music, performing with Ricardo Richards Pan Connection in elementary school, then, moving on to singing with Educational Complex Choir and Fusion Band in high school."
The territory gave Petersen a foundation in performing arts that paved the way for him to later be cast in original musicals with Broadway composer Timothy Graphenreed and Tony Award-winner Lillias White.
Originally, each episode of "Mr. Pete's Playhouse" was formatted the way Petersen said he conducts his classroom – using songs, storybooks, words of encouragement, and discussion questions. But as the pandemic dragged on, Petersen continued to refine each episode and taught lessons that included U.S. Virgin Islands history, marine and beach safety, and Black history.
"After posting it in my virtual classroom for my students, I also posted it to my Facebook page, which parents immediately supported it, as they were searching for resources and outlets for their kids at home," Petersen said. "After the third video, I partnered with Kirk Rojas, who added his graphics and animations, and we have been working together on producing every episode since then."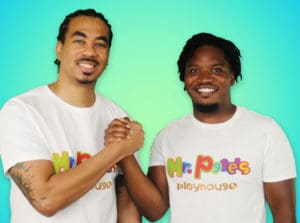 The entire process of creating the videos was a "self-taught, trial and error process" that Petersen said he and Rojas continue to perfect.
"After each episode, we try to figure out what went right, what went wrong and how to fix it. You can see the improvements throughout the episodes. It is a learning experience," Petersen said.
The pair produce two episodes a month each season, releasing content from February to June and August to December, all designed to keep early school-aged children learning, engaged, and entertained.
"As an elementary teacher in a Title 1 school, a lot of my students come from underprivileged and underserved communities," Petersen said. "I strongly believe that every child is entitled to equal educational opportunities no matter what their socioeconomic status or background is. … The vision of Mr. Pete's Playhouse is to bridge that gap and to serve kids of all backgrounds with media programming and services that exposes, educates, inspires and entertains them."
To create each video the two must research the topic, put the script together, learn and record the songs, purchase necessary props and costume pieces, and then record. Petersen is so passionate about the endeavor that he said he turned one of his home's spare bedrooms into a studio to shoot all the content.
"One episode usually takes about four to six hours to shoot, it depends on the songs and activities included. Kirk's added animations usually take another four to six hours," Petersen said. "We now have a music production team that we partner with from St. Croix called 'First Wave Production' which makes the music portion of the process much easier and better quality as well. I can't really pinpoint total hours, but a full episode usually takes about two weeks with all the moving parts coming together."
This is just one example shared by Petersen that displays his desire to remain connected with St. Croix by seeking out avenues that blend his work in Texas with his home — the West Indies.