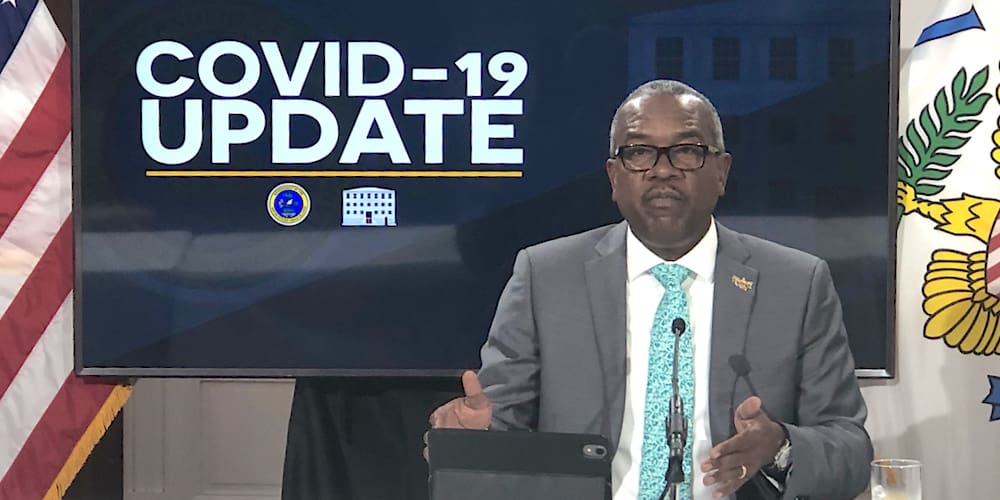 Gov. Albert Bryan Jr. and Health Commissioner Justa Encarnacion said that the U.S. Virgin Islands has conquered the latest surge in the coronavirus, while at the same time warning that COVID is "far from over."
Speaking at the weekly news update at Government House on St. Croix, Encarnacion said there are 46 active cases in the territory, with 27 on St. Thomas and 19 on St. Croix. St. John had no cases. Last week, there were 95 cases in the territory. One person is hospitalized at the Gov. Juan Luis Hospital and four are at the Schneider Regional Medical Center, and one of those patients is on a ventilator.
The monoclonal antibodies treatment continues to be used, the commissioner said, as it saves lives and keeps people out of the hospital. So far, the treatment has been used in the USVI 138 times, she said.
The so-called British strain of the coronavirus, or B117, has been confirmed in the territory, with 19 cases presently and 27 other samples being tested. Although the Delta variant, B1612, found initially in India, has not been detected in the territory, the commissioner said is it more contagious and has more severe symptoms.
By July 2, the DOH will launch the digital vaccine record program for individuals who travel or need to share their status with businesses and organizations in privacy. Once the program is ready, more information will be shared, the commissioner said.
"Note this: In order to protect from the more transmissible variants, you have to have been fully vaccinated. Either the Johnson one dose or the Moderna and Pfizer two doses," she said.
In an effort to stimulate vaccinations, the government will hold lotteries to give away $100,000 a week for 10 weeks in each district, starting July 9, to residents who are fully vaccinated. Those with only one shot will be eligible for $50,000. Those who work in public or private schools and are fully vaccinated will be eligible for additional winnings of $5,000, $10,000 and $25,000. School employees can register at a vaccination center or at 340-777-8227. No registration is needed for the general drawing.
Economy strong, Bryan Says
Speaking of the territory's finances, Bryan said there is enough federal funding to keep the economy strong, even with Limetree closing the St. Croix refinery.
Because of pandemic funding, including $11 million for vaccinations, there are no shortages of COVID supplies and the territory has until 2026 to spend it all. So far, with federal dollars, the government has opened testing centers, issued public service announcements, provided laptops for all students, installed plexiglass in schools and funded the Legislature with more than $1 million. The funds have been monitored to ensure there is enough to handle another surge, Bryan said.
The governor announced that $15 million in tax refunds was sent out during the week. Next week, another $10 million will be released, bringing the total to $155 million in tax refunds by the administration. Additionally, the V.I. Bureau of Internal Revenue sent out $226 million in stimulus checks to Virgin Islanders, Bryan said.
A first concrete step in the territory's long-term recovery from the 2017 hurricanes begins with a contract that was awarded for the demolition of the Evelyn Williams Elementary School. The St. Croix school will be the first modern school to be rebuilt according to the Education Department's master plan. The governor said that working with the federal government on 1,600 projects has not been easy.
Encarnacion announced current pop-up testing sites that offer free vaccines as well as COVID tests. The only sure way to avoid the virus is to get vaccinated, she said. So far, 44,062 first vaccines have been administered in the territory and 36,323 residents are fully vaccinated. Also, more than 650 children ages 12 to 16 now have been vaccinated.
The pop-up test/vaccine sites are:
St. Croix at Charles Harwood on June 29 from 10 a.m. to noon.
St. Croix at Charles Harwood on July 1 from 10 a.m. to noon.
St. Thomas at Home Depot on June 29 from 1 to 3 p.m.
St. Thomas at Ft. Christian Parking Lot on July 1 from 1 to 3 p.m.
St. John at the Port Authority gravel parking lot on June 30 from 1 to 3 p.m.