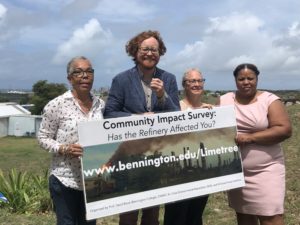 Some of the islands' caretakers – St. Croix Environmental Association, Crucian Heritage and Nature Tourism and V.I. Good Food Coalition – joined David Bond, a professor from Bennington College in Vermont, to release a survey for residents about Limetree Refinery's recent emissions and petrochemical releases.
"This survey is a response to the overwhelming public outcry for better information about the impacts of the ongoing operational failures at the Limetree Refinery," Bond said.
Bond, with Frandelle Gerard of CHANT, Jennifer Valiulis of SEA and Sommer Sibilly-Brown from Good Food V.I., designed the four-minute survey, "Community Impact Survey: Have you been affected by the refinery?" They hope every St. Croix resident – whether or not impacted – answers the questions by the July 9 deadline.
The survey's purpose is to evaluate and tabulate the environmental and health impacts of accidental releases over the last six months. The results will be published and discussed with the public, Bond said.
Questions on the survey ask the community members about noxious smells, flares, explosions, contaminated cisterns, gardens and farms. They also want to know about health impacts – trouble breathing, eye irritation, skin rashes, headaches, nausea, vomiting and respiratory illnesses.
To help distribute the survey, volunteers will be at the entrances to supermarkets and farmers' markets this weekend to pass out the surveys and help people fill them out if necessary. Some will go house to house with paper surveys. The survey also can be completed online at www.bennington.edu/Limetree.
They say the survey is not sponsored or affiliated with any company, lawsuit, government agency or political party. All personal information will reportedly be held in strict confidence and stored on a computer at Bennington College in Vermont with a single password.
The entities give several reasons to be involved in the project:
"Why us? Because the environment is an integral part of our culture," Gerard said. "Because, as far as we know there has been no attempt to gather data" regarding the latest breaches.
"So we're having to partner with Dr. Bond, where we know there's going to be independent scientific analysis of the data."
Sibilly-Brown said her organization is involved because farmers located to the north and northwest of the refinery are impacted by emissions left in the soil, water and food.
"My organization has a vision of a healthy food system in St. Croix and that means we have to have a healthy environment," she said.
Even before the refinery reopened this year, the community was nervous, and SEA set up hotlines in response to calls from community members.
"I am a scientist by training as are many of our board members. We believe it is important to understand this issue based on data, that is unbiased and not being used for political or economic gain," Valiulis said.
Limetree re-opened the St. Croix refinery on Feb. 1 after it had been closed for eight years. In April, an accidental release spewed oil droplets on 130 homes and contaminated 60 cisterns in Clifton Hill. Limetree cleaned the roofs and cisterns.
On April 24, the V.I. Health Department warned of potential health effects of the emissions. Limetree issued a press release apologizing for "light hydrocarbon odors" and said odors might continue while the company was performing maintenance on the coker unit.
On April 30, U.S. Environmental Protection Agency experts arrived on St. Croix and cited Limetree with a Clean Air Act violation for not operating the sulfur dioxide monitors. Limetree agreed to repair and reactivate all five monitors.
On May 12, a fire was reported at Limetree by the EPA and the company suspended production. They also warned residents of Enfield Green to the west, not to use cistern water. Limetree set up a car wash and distributed bottled water to the neighborhood.
Then on May 14, the EPA ordered Limetree to shut down for 60 days due to operations not conducted properly that presented "an imminent risk to public health."
Limetree also appears to be losing its major investor, Arclight Energy, according to Reuters. And Limetree is facing three class-action suits by St. Croix residents.
EPA Adds Requirements to Operate Refinery
On Thursday, the EPA announced it has set new air monitoring requirements for the refinery. The company must submit a plan to install, operate and maintain nine hydrogen sulfide (H25) monitors and nine sulfur dioxide (S02) monitors within 15 days. Five of the SO2 monitors are required by the preexisting permit and the other four and nine H25 monitors are new requirements, according to the press release. Additionally, the Clean Air Act requires Limetree to arrange an independent auditor to evaluate compliance with environmental requirements.
To read the entire directive click here.
Related links:
Reuters Exclusive: Refinery Operator Limetree Bay Ventures LLC Being Dissolved.
Hundreds Join Third Legal Action Against Limetree Bay Refinery
EPA Orders Limetree Bay Refinery to Pause Operations for 60 Days
Limetree Bay Refinery to Reinstate Air Monitoring Program