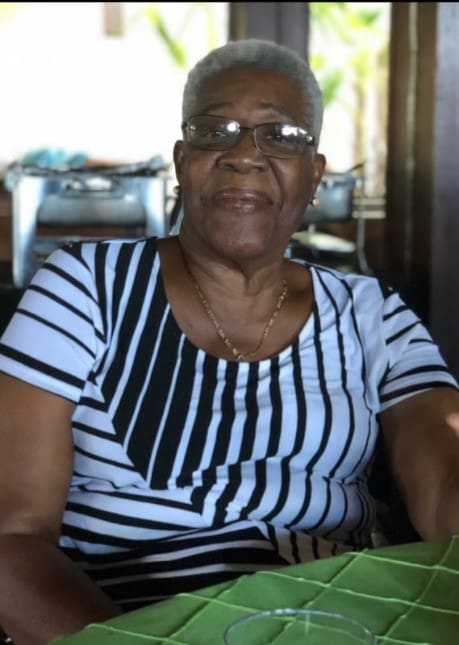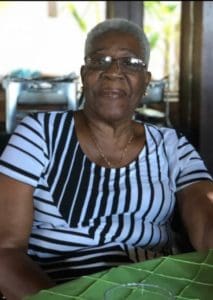 Elizabeth Alfreda Martin Dawson, also known as "Betty," of Estate Whim died on May 17.
She was preceded in death by her mother, Eva Simmonds; father, Edward Sillicious Martin; mother-in-law, Adele C. Flynn; brothers: Alfredo Liburd, Edward Elisus Martin Jr., Claude Martin and Esidor Elusus Martin; brothers-in-law: Norman Dawson and Elroy Flynn; niece-in-law, Ebony Jackson; nephew-in-law, Norman "Butch" Dawson Jr.; and special friend, Victoria Thompson.
She is survived by her husband, Lorne O. Dawson; daughter, Crystal L. Collins-Danielson; son-in-law: Louis M. Danielson: grandchildren: Kenaiaya Henderson, Louriz Danielson and Alena Danielson; siblings: Delores Walcott-Brewster, Enrique Walcott, Beatrice Martin-Bland, Pauline Martin, Doris Martin and Leon Martin; sisters-in-law: Donna M Osborne, Patricia Flynn-Caines, Utah Dawson-Ferguson, Jean, Madalyn, Edelta and Maralyn Dawson, and Marylene Ngene; brothers-in-law: Leroy and Keith Dawson; nieces: Denise, Linda, Lynette, Desrine, Makeba, Avis, Triece and Shanna; nieces-in-law: Miyoko and Mia Osborne, Trena Smith, Aretha Ventura, Dionne M. Flynn, Beverly Beranice and Barbra Dawson; and nephews: Raymond, Wayne, Junior, Leo, Dexter, Eddy, Leroy, Ricky and Spencer.
She is also survived by nephews-in-law: Craig O. Brudhurst and Lambert Telesford; adopted family: Bernard Samuel and family, and Monica Allen; godchildren: Aretha Ventura, Craig Brodhurst, Trena Smith, Miyoko and Mia Osborne, Merle and Dian Allick, Antonia Prospere, Lysanni Williams, Thailan Brown, Antonio Brown, Rayanthony Brown, Anthony Brown Jr., Joseph Jr. and Melanie Milligan, Ebony Hercules, Kelvin and Karlene Vidal, Julie Samuel, Andrea Thomas, Naeema Clark, Tristian Williams, Naheem France, Ricardo, Vincent, Fransico Johnson, ONiel Morris, Watina and Walter Hill and Charlies Morris; and special friends and family: Naomi Clark-Thomas, Bernadine Bailey-Jones, Joyce Lenhardt, Una Lenhardt, Antonette Lenhardt, Meagnes Trant and Rosalie Sackey.
Other survivoring friends and family include Marlene Henderson, Laverne Hodge, Delores Wallace, Xoriada Bermudez, Emma Morris, Sis Coletta, Sis Rachel Samuel, Sis Inetha Green, Sis. Ovilda Williams, Helena Pena, Jenny Miller, Ellie, Ann, Helen Wells, Bro. Mario Richardson, Bro Alvin Milligan, and Harold Brathwaite Jr., Rev Dion Christopher and wife Rev. Eulencine Christopher, the entire Miller family, the entire Martin family, Bradley Christian and the entire Christian family, Mr. Marcellino Ventura Sr. and family, Mr. and Mrs. Kenneth Henderson Sr. and family, Mr. and Mrs. Leroy Danielson Sr. and family, Morris , King Generic and family, Camille Macedon, aka King Derby, and family, The entire Department of Human Services, the Moravian Church family, the Graduating Class of Claude O. Markoe High School of 1963; as well as other relatives and friends too numerous to mention.
The viewing will begin at 9 a.m. followed by a funeral service at 10 a.m., Tuesday, June 8, at Friedensberg Moravian Church, Frederiksted. Interment will be at Frederiksted Cemetery.
Due to the COVID-19 pandemic and public health regulations, all attendees must wear a mask and adhere to social distancing.