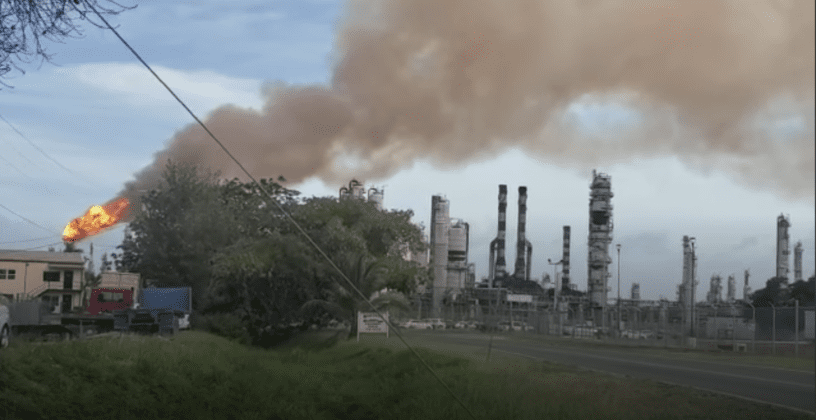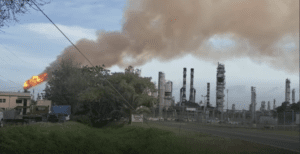 Nelson Rojas didn't know the two men who approached his Estate Diamond home on May 21 and requested permission to look around; nor did he know what was meant by the "Release of all Claims' form one of the men said he would have to sign in order to get $5,000 to take care of damages to his property.
Rojas' reported experience is memorialized in a motion filed Tuesday seeking a protective order for St. Croix residents with potential claims against Limetree Bay who are being asked to sign settlement offers that, it alleges, are too vague and misleading to make an informed decision.
The offers, which residents have variously reported to the Source as ranging from $2,000 to $9,000 – up to $15,000, according to others – come in the wake of three class-action lawsuits triggered by a series of toxic emissions and oil sprays affecting downwind neighbors since the refinery restarted operations on February 1.
All of this may be moot, however, if Limetree Bay Ventures, which is in the process of dissolving, according to breaking news posted Thursday by Reuters, files for bankruptcy.
"We are reviewing reports of Limetree's financial condition with both attention and concern," said Warren Burns, whose law firm Burns Charest LLP filed the motion along with Colianni and Colianni and the Pate Law Firm. "Our focus is on making sure that our clients and all Crucians are not holding the bag after another financial and environmental catastrophe. They deserve so much better."
In 2016, Boston-based Arclight Capital purchased the refinery out of bankruptcy from Hovensa with a plan to restart it as a niche producer of very low sulphur marine-grade fuel. But after a refit funded with loans and investments worth $1.25 billion, the aging refining plant experienced a series of problems in the four months since restarting, plagued by safety and environmental mishaps that ended with a 60-day refinery shutdown order by the U.S. Environmental Protection Agency.
The crowning incident on May 12 – a stack fire that spewed droplets of oil over a score of west side neighborhoods including Rojas' – propelled Limetree representatives into the field, knocking on neighbors' doors with settlement templates in hand.
After taking photos of the properties, a claims adjuster, Sedgwick Claims Manage Services, gave residents a 'template report' and a release form offering to compensate them for the oil that landed on their property, according to the motion. But the report didn't cite the specific oil spray incident or explain what it meant by 'bodily injury' or 'property damage, Rojas and others alleged. It didn't explain why Limetree was disputing that it sprayed oil on their property, didn't advise them to seek a lawyer's advice before signing and accepting the money, and didn't mention the class action lawsuits in progress.
Williams Delight resident Phyllis Blackman, whose roof and two cisterns took an oil spray hit, said she signed a release offering her $3,100 but was told she couldn't have a copy of the paper.
"The man said they don't give you a copy. I don't know why," Blackman said.
Nor was she told how she would receive the money. Then she heard that Limetree was offering other west-end residents $7,000, and another representative who came to her home said she could receive the same amount. That person has yet to return with an agreement, she said.
Burns' protective order motion asks that Limetree be required to conduct its communications with prospective class members in clear, specific language that represents the facts in a straightforward, transparent way. It also seeks the option for those who have already signed Limetree settlement forms to opt out and return the money, if that's their wish.
"Limetree's quick release deters careful and informed decision-making," the motion said. "Class members may be unsuspectingly lured into compromising their claims for well below fair settlement value because they lack critical information."
Burns and his partner law firms were the first to sue Limetree on May 19, seeking the creation of a medical monitoring program for one class of residents whose health might be affected by the refinery's toxic emissions, and a second class of residents who seek compensation for its interference with the enjoyment of their homes. Class actions by attorney John Dema and Lee J. Rohn and Associates closely followed.
"I truly believe these releases are not valid releases," said Lee Rohn, who learned about the dissolution of Limetree Bay Ventures when her firm tried to serve the ownership entity and found it no longer existed. Its name has even been removed from the Limetree website, Rohn said.
The attorney is so confident of being able to get Limetree's releases dismissed that she's inviting residents who signed them to join the class action anyway, she said.
"You contaminate the water in an economically challenged area, then you say that in order to drink the water you must sign this and we'll clean it for you? That is asking them to sign under duress," Rohn said.
For St. Croix residents like Karmon Walters, the Limetree debacle is déjà vu all over again.
"I have always been affected by the owners that come from there," Walters pointed to the stacks and vessels of the refinery that have showered oil on her Clifton Hill neighborhood many times.
Walters was just settling into her new home in 2009 when oil from the Hovensa-owned refinery splattered close to 200 Clifton Hill and Estate Profit households. Then in 2010, three back-to-back oil sprays doused hers and other neighborhoods with an oily hydrocarbon cocktail: first, when a line in the desulfurizing unit burst; then when a mishap forced oil to be flared; and again when the coker plant caused an oil shower that sent 16 people to Luis Hospital.
Similar to the recent events at Limetree, all of this happened within the space of three months.
Then as now, hundreds of St. Croix residents joined class-action lawsuits against the refinery. One was Walters' neighbor whose cistern was affected by Limetree's oil spray and asked for anonymity to protect from possible retaliation.
"In the Hovensa era, I joined a class action suit because my wife got sick with respiratory problems and a skin rash," he said. "She and my grandson both went to the hospital. But when they settled, they gave my wife only a couple of thousand dollars."
Hovensa by that time had filed for bankruptcy protection.
Burns and Rohn said they are watching to see what happens, but at this time they are not worried about compensation for their clients.
"Fortunately, some other large pockets such as British Petroleum are invested in Limetree," Rohn said. "There is also the asset of the refinery itself, and hopefully they have taken out sufficient insurance."
Limetree Bay officials did not respond to emails seeking the company's position on these issues.