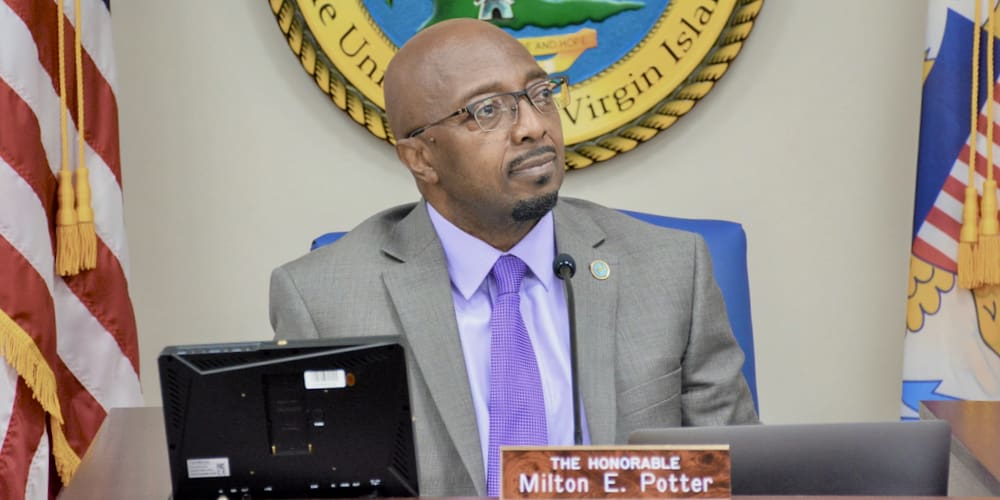 The V.I. Senate Committee on Rules and Judiciary advanced four nominations of candidates for various governmental boards during Thursday's hearing, held at the Frits E. Lawaetz Conference Room on St. Croix.
V.I. Board of Nurse Licensure nominee Dr. Celia Nurse
V.I. Board of Nurse Licensure nominee Dr. Celia Nurse is a native Virgin Islander who told the committee she had several goals she hopes to achieve if confirmed and is happy to be serving her community.
"As a proud native of the USVI, I have an unwavering commitment to investing in the future of nursing and quality health care in this territory," Nurse said.
If approved to serve on the board, the first actions Nurse would like to take include restoring the board's website, improving collaboration between the board and the University of the Virgin Islands and streamlining the license application process.
"I'm not motivated by money. I'm motivated by purpose. The work that I do and the goals that I want to achieve, I want them to benefit my home … If there are needs at home, I want to address those needs first," Nurse said.
While some of the board's needs can be addressed in the short term, other goals Nurse set reached further into the future and were targeted primarily at nursing education. One of these goals is the development of an Education Committee within the Virgin Islands Board of Nurse Licensure to assess and meet the educational needs of the territory's nursing profession.
V.I. Parole Board nominee Cherrisse Woods
V.I. Parole Board nominee Cherrisse Woods holds degrees in biochemistry, forensic science and law. Most recently, she has served under the V.I. Attorney General. Woods said she would be a "tremendous asset" if confirmed to sit on the board.
Working in the V.I. Department of Justice, Woods said she gained experience in the prosecution and defense of major crimes, which developed into a keen understanding of the criminal justice system.
Woods is as passionate about her community as she is about the law. She said as a native of the Virgin Islands, "I have a substantial interest in seeing eligible persons reintegrated back into the community and ensuring that persons who are likely to re-offend are not given the same opportunity."
Her passion to serve her community and her knowledge and experience with the parole evaluation process is what Woods said makes her an excellent candidate to sit on the board.
V.I. Board of Architects, Engineers and Land Surveyors nominee Stephen Samuel
After seeing blueprints for the first time at 11 years of age, V.I. Board of Architects, Engineers and Land Surveyors nominee Stephen Samuel said he fell in love with engineering.
This love for building and construction grew until Samuel, a native of St. Croix, obtained a Bachelor of Science degree in civil engineering in 2007, and in 2013 opened his engineering and construction company called Leumas Engineering Group.
Senators probed for his thoughts on the current environmental concerns surrounding the Limetree Bay refinery.
Samuel said he was familiar with how to create pollution prevention plans, but would also focus on public education.
"There is a big gap between the technical engineer principles and the common or general public knowledge," Samuel said. He added that if confirmed he would aim to close this knowledge gap in hopes that when engineering hazards occur the public can better assess what is occurring.
V.I. Board of Public Accountancy nominee Deepak Bansal
V.I. Board of Public Accountancy nominee Deepak Bansal has been a Certified Public Accountant in the Virgin Islands for over 20 years, but he is one of only a handful.
"We don't have enough certified public accountants in the territory," Bansal said.
If serving on the board, Bansal said he would like to ensure the process for licensure is as streamlined and efficient as possible. Additionally, he would like to see continued educational opportunities be afforded to those licensed in the territory in hopes to retain the few accountants within the territory.
"Again, we just don't have enough certified public accountants in our community. I believe it's an important function that CPA's do to financials are all presented in a uniform matter … I think it's very important for the number of actual CPA's to increase," Bansal said.
No firm amount was given for how many accountants were currently licensed in the territory, but if confirmed, Bansal hopes to improve these numbers.
The nominations will next be reviewed and voted on by the full Senate.
Sens. Novelle Francis Jr., Kenneth Gittens, Franklin Johnson, Carla Joseph, Steven Payne Sr. and Milton Potter were present for the hearing. Sen. Genevieve Whitaker was excused.