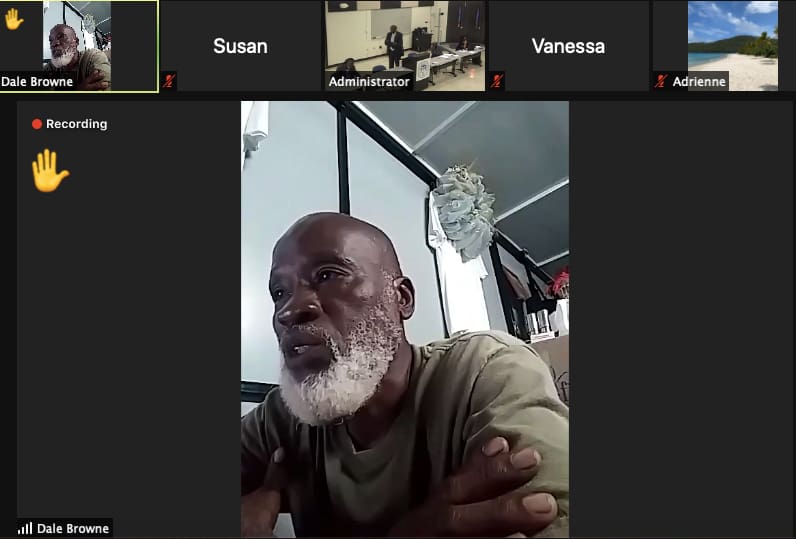 Farmer, Dale Browne of Sejah Farms hopes the Department of Agriculture can do more to help Virgin Islands farmers.
"The Department of Agriculture is responsible for developing the industry," he said Wednesday evening during a town hall meeting on food security. "They need to restructure the Department of Agriculture to meet the needs of agriculture in the territory. It's not just about seedlings, water and the abattoir."
Browne and around 50 other residents took part in the mostly virtual town hall at the University of the Virgin Islands Great Hall. The session was held in response to Act 8404, passed by the 33rd Legislature, requiring the university and DOA to develop an agriculture plan that ensures agriculture productivity and supports the farming community "strategically and in a dynamic way," UVI President David Hall told the audience.
The task force comprises two UVI deans, two members from the UVI Extension Service and two DOA administrators. Hall and Agriculture Commissioner Positive T.A. Nelson are in charge of the plan, with the responsibility to prepare the final plan to be presented to the governor and Legislature.
"What we present in this plan is not our idea," Hall said. "The really important people here today are the individuals sitting in those seats."
Hall told the audience the task force was looking for answers to two questions along with other input from the community. The questions posed to the audience were: "What are the barriers to producing more?" and "What can the government do to support you?"
Browne listed several ways the V.I. government can support farmers better. The division on soil and water conservation was disbanded years ago, he said, but is sorely needed. The department needs experts on staff, including an agronomist, horticulturist, entomologist, plant pathologist and help with livestock. While UVI has several of the scientists on staff, Browne said the university cannot afford to help very much.
The DOA needs better outreach, Browne said, because the industry is based on human interaction. Farming should be treated equally with health, safety and education policies, he added.
At one point, Nelson seemed to dispute Browne, saying the farmer used an old organization chart and that people have retired. The commissioner added that a condenser broke down recently, so the abattoir will probably be closed again.
Nate Olive of Ridge 2 Reef Farm said he and every other farmer could speak for an hour and a half about their needs. He talked about the Farm to School program his farm and about 15 others contribute produce to. There is a lot of food waste, he said, because of inconsistent ordering from week to week. "Contracting consistency" is needed, he said, and the program should order more food that is in season.
Several people inquired about the government land set aside to lease to farmers. Browne said procuring a lease is "often stymied by the DOA," and another farmer said land had been "pulled away" over the last 20 years, leaving less available for agriculture. The Agriculture Department should have total control, not the executive or Legislature, another farmer said. Former Agriculture Commissioner Louis Petersen suggested that loss of land from the land bank should be addressed in the final agriculture plan.
Other participants offered suggestions and asked questions. Sen. Genevieve Whitaker asked how to inform the Board of Education about teaching agriculture in the schools and more than one person asked about local and federal funding for farmers.
"Farming is such a marginal business," Olive said.
One farmer said there should be a system for water catchment and distribution, and UVI researcher David Hersey said help is needed from policymakers and farmers to implement soil and water conservation.
Olive asked for help to streamline the application process for exemption from excise taxes to which farmers are entitled.
Several people asked about support for backyard growers and how to involve youth and people with disabilities. One participant said students should be encouraged into careers supporting farmers with new technology and designing machinery.
Wednesday's comments will be incorporated into the territory's plan, Hall said, along with responses from a town hall held on Monday on St. John. Another meeting will be held from 5:30 p.m. to 7 p.m. on June 3 on St. Thomas at the UVI Administration and Conference Center. People can participate in person or through ZOOM at https://zoom.us/j/3850929463.