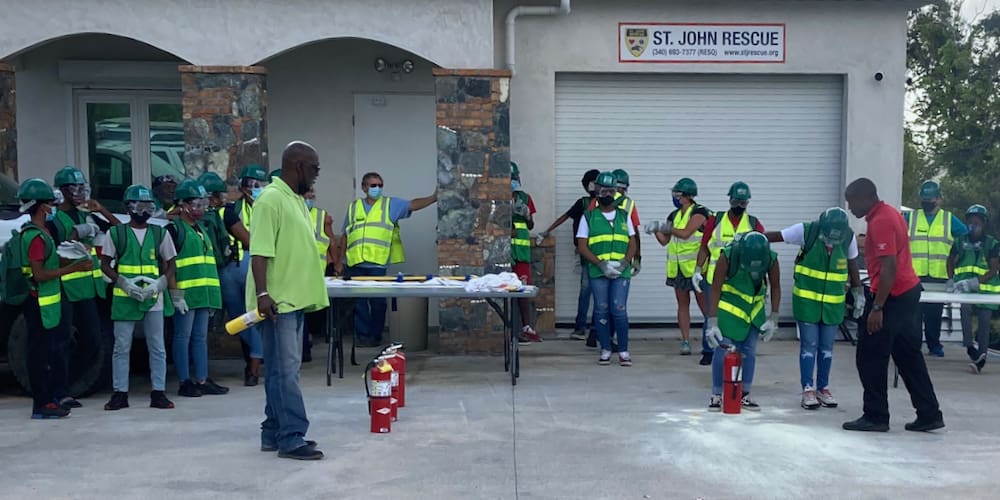 More than two dozen St. John teens and adults received training this past weekend at the St. John Rescue headquarters on Gifft Hill to become members of the Community Emergency Response Team.
"We train members of the community to respond to minor disasters and accidents and assist until first responders can arrive on the scene," said Lisa Ann James, emergency management outreach coordinator for VITEMA.
Trainees spent from Friday night through Sunday learning first aid, CPR, light search and rescue skills and how to put out a small fire, James said.
The teens were recruited through the Department of Sports, Parks and Recreation "and were very excited and engaged," James said. "They asked a lot of questions."
Those who completed the program became CERT certified and were awarded a bag containing a helmet, first aid kit and other equipment they could use when called out to assist in an emergency.
Joel Connor, from the V.I. Police Department, led the training. At the conclusion of the three-day session, emergency responders from the V.I. Fire Service, VIPD and Emergency Medical Services conducted a drill.
Similar sessions have been held on St. Croix and St. Thomas over the past two months, James said. VITEMA hopes to conduct another round of sessions before the year is out, she added. The programs are funded by the federal Department of Homeland Security.
As hurricane season approaches, VITEMA will conduct workshops in storm preparedness for community groups by request, according to Irvin Mason, training and exercise coordinator for VITEMA. Groups interested in holding a workshop can call 340-774-2244.