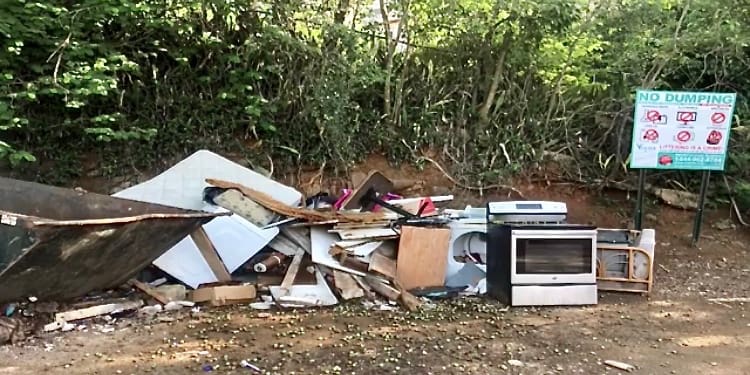 On day one of a series of webinars that will be conducted in celebration of Earth Day 2021, the University of the Virgin Islands Caribbean Green Technology Center, the Waste Management Authority, the Department of Planning and Natural Resources and the U.S. Environmental Protection Agency discussed waste and where it goes. The goal of the webinars is to explore how the U.S. Virgin Islands can reduce, reuse, resell, repair, repurpose and recycle all the waste materials generated in the territory.
Alex J. Bruney, a senior staff engineer for Waste Management, said the department faces the accumulative harmful effects of improper disposal of solid waste, antiquated infrastructure and the discharge of untreated or partially treated wastewater into the sea.
The Waste Management Authority was created in January 2004 by Governor Charles Wesley Turnbull. It was created as a separate entity from the Department of Public Works to alleviate the number of responsibilities that fell on the department. The main goal of the authority is to advance modern and responsive waste management tactics.
"As far as wastewater, out of eight treatment plants I am proud to say that six of those pump stations are managed, controlled, and operated by waste management employees that are certified treatment operators that maintain the plants," Bruney said.
There are three major bin sites located on St. Croix and 51 in the St. Thomas/St. John District that handles solid waste. Bruney said that because St. Croix has flat terrain it is easier for trucks to provide trash pickup, unlike St. Thomas and St. John which are more mountainous.
"Illegal dumping is very high. Waste tires, electronic waste, and used oil are all concerning issues within the territory due to a lack of proper disposal by residents. That is a challenge we are working on right now," he said.
Bruney also said that to see the change the mindset of the residents must change. "We have become so used to not separating our waste. This mindset needs to change as we move forward in the future."
The U.S. Environmental Protection Agency's efforts include but are not limited to, coordinating, collaborating and providing technical and funding assistance to Virgin Islands government agencies. They also ensure federal landfill standards compliance at Virgin Islands landfills. Kimiko Link, an environmental specialist for EPA, said that some of the issues the EPA has encountered are long-delayed program approval, only two existing disposal locations, limited waste diversion programs, historic underfunding and no tipping fees or source of sustainable revenue to maintain and expand operations.
Link presented a "V.I. Waste Characterization Study" that was conducted in 2019. In the study, she said, "We evaluated the possibility of having a Reuse Innovation Center in the V.I. where we will be able to capture a lot of the materials that are currently going to the landfill and possibly repairing, reselling them, redesigning, repurposing."
Austin Callwood is the director of the Environmental Protection Division, which regulates solid and hazardous waste programs, oversees sustainable solid waste materials management programs and is responsible for environmental monitoring, compliance and enforcement. Callwood said, "One of the goals of sustainable waste management is to reduce the amount of valuable material that goes into the landfill."
"We believe that this will be one of our biggest community challenges. We are too good at throwing things away and it impacts our quality of life and affects our landfill." In 2020, DPNR received a grant in the amount of $10 million in supplemental disaster relief which is split two ways – $4 million goes to the administration and development of the program and $6 million goes to the execution of the waste management plan.
As the webinars continue, topics will include more in-depth plans for the future of waste in the U.S. Virgin Islands. A recording of the first webinar can be watched on YouTube.
The webinars will be conducted every Wednesday in the month of May:
– Wednesday, May 12, from Noon – 1 p.m. 
What Are We Wasting and What Can We Do About It? Introducing the Waste Characterization Study and the USVI Sustainable Materials Management Analysis (Webinar with Q&A)
– Wednesday, May 19, from Noon – 1 p.m. 
What Are Other Islands Around the World Doing with Their Materials? Let's Learn from our Global Island Communities (Webinar with Q&A and Broadcast Links Highlighting Islands SMM Speaker Series #1 and #2)
– Wednesday, May 26, from Noon – 1 p.m. 
What Should We Do Next? Let's Regather and Reflect Together to Strategize Next Steps Towards Our Common Vision (Webinar and Community Conversation/ Visioning Facilitated by UVI Creativity Lab)
For additional information, contact Ariel Stolz by email ariel.stolz@uvi.edu.