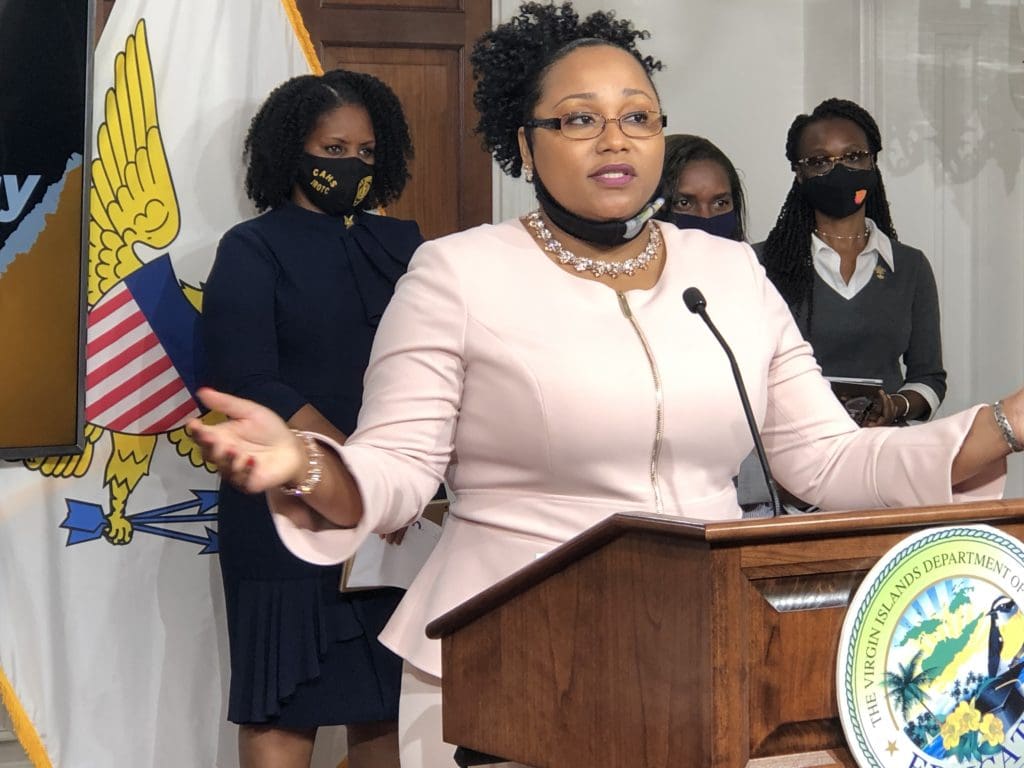 Department of Education officials announced Wednesday that classes will continue to be held virtually and in-person – as they have been since March – with Centers for Disease Control guidelines dictating safety protocols going forward.
A difference next year will be that more students will be able to attend class in person because the national guideline of six feet of separation between people has been reduced to three feet.
"We know we cannot invite all students back to campus given the three feet distancing guideline," Education Commissioner Racquel Berry-Benjamin said at a press conference at Government House on St. Croix on Wednesday.
If CDC relaxes its guidelines, the department will allow more students to attend school in-person, she said.
Education had good news for the class of 2021 as representatives from each school announced plans for graduation ceremonies in May and June. Each school will host socially distanced events, with graduates and guests staying in cars or gathering in small groups. Parts of the ceremonies will be virtual, with pre-recorded messages and livestreaming. A $150 graduation fee has been standardized for all students in the territory, according to the commissioner.
Graduates will be allowed two or three guests, depending on the school, for the outdoor celebrations, and photos are to be allowed in designated areas. Everyone will wear masks at all times, maintain social distancing and temperatures will be taken. Security will disinfect microphones, tabletops and podiums throughout the events. None of the commencements will be open to the public, but they will be streamed live on the Education Facebook page.
The usual graduation speakers – such as the governor, commissioner and keynote speakers – will attend in person or give remarks online.
"The students really deserve all the pomp and circumstance allowed," April Peters of Charlotte Amalia High School said.
Berry-Benjamin also talked about resources employed during the year, including laptops for students and new technology for teachers. She said the curriculum is being overhauled and there is an online program to track the progress of student-athletes.
The superintendents of St. Thomas/St. John and St. Croix school districts Stefan Jurgen and Carlos McGregor, respectively, congratulated the senior classes, teachers, parents and administrators.
"It gives me great pleasure to congratulate the Class of 2021 and the promotees. This year may go down in history as one of the most challenging periods in our lifetime. However, our students are extremely resilient. It almost seems congratulations are not enough. Our seniors rose to the occasion to close this chapter of their lives," McGregor said.
The superintendents said there will be a number of summer programs that will be outlined soon.
Dates and times for graduations were also announced:
St. Croix Central High School – May 18 – 10 a.m.;
St. Croix Educational Complex – 194 graduates – May 19 – 10 a.m.;
St. Croix Technical Center – May 17 – 10 a.m.;
St. Croix Adult Education – 18 graduates – May 21 – 4 p.m. at the St. Croix Complex Auditorium;
Ivanna Eudora Kean High School – 153 graduates – May 20 – 1 p.m.;
Charlotte Amalie High School will host its 100th graduation – 240 graduates – May 21 – 1 p.m.;
Raphael O. Wheatley Skill Center and Adult Ed – June 4 – 2 p.m. at the Charlotte Amalie parking lot; and
St. Thomas Adult Education ACE – 28 graduates – May 27 – 6 p.m. at Charlotte Amalie auditorium.
Students and parents will be given precise instructions from the individual schools.