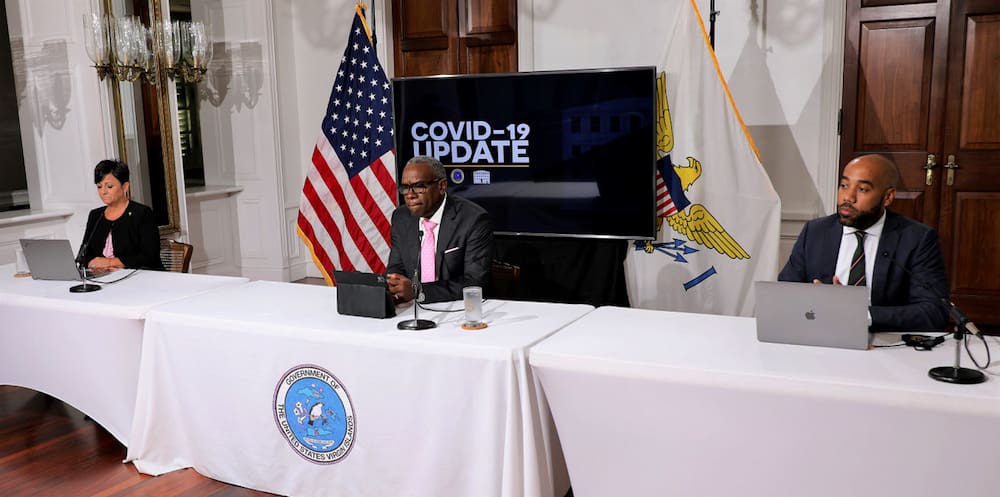 With a COVID positivity rate of 1.8 percent this week, up from 1.1 percent the week before, officials said new cases of the virus are still being confirmed within the territory, but increased vaccination can bring them to zero.
As of Monday, 37,034 first doses of the COVID vaccine had been administered territorywide, with 27,432 people fully vaccinated, putting the territory a little under 13,000 vaccinations away from hitting Gov. Albert Bryan Jr.'s goal of having 50,000 residents vaccinated by July 1.
At Monday's news briefing, Government House Communications Director Richard Motta Jr. added that vaccination numbers overall have dipped slightly, mostly in the category of residents ages 18 to 40 years old, which, according to the numbers, is the demographic with the highest number of positive cases.
"So young people, you love to fete, get vaccinated so that you can fete safely and not spread the virus to the people who are most vulnerable around you," Motta said.
Speaking later, Bryan sought to quell some doubts around the vaccine, saying the data shows it has had a visible effect on the impact and severity of the virus and stops it from being spread as easily. The more residents vaccinated, the closer the territory gets to achieving herd immunity, making the odds even better against further spread, the governor said.
As of Monday, the territory is tracking 62 active COVID cases – 18 on St. Croix, 42 on St. Thomas and two on St. John – including one patient at each of the territory's two hospitals. Overall, 103,134 tests have been conducted territorywide, with 99,996 negative and 3,138 positive.
Student Food Benefits
Also during Monday's weekly briefing, Human Services Commissioner Kimberley Causey-Gomez announced that her department has submitted a state plan for the third round of Pandemic Electronic Benefits Transfer benefits for children and students in grades K-12 enrolled in public and eligible private schools offering free lunch programs.
"This was the most comprehensive plan our Division of Family Assistance has submitted so far, as it seeks to cover the entire 2020-2021 school year, from August 2020 to September 2021," Causey-Gomez said. "With this plan, we are serving an additional 4,000-plus children, increasing the number of children served from 13,000 to more than 17,000."
In addition to students in public and eligible private schools, the third issuance of benefits will be extended to current SNAP families with children younger than six. Benefits will be automatically added to the families' accounts.
More information about P-EBT is online at the Department of Human Services website, or can be obtained by calling the P-EBT customer service number at 340-772-7120 or sending an email to pebt@dhs.vi.gov with the subject line "P-EBT."
Meanwhile, the department will also host two virtual forums to share more about the launch of a new DHS Personal Care Attendant In-home Service Program, which Causey-Gomez said would build a network of personal care attendants who can help Human Services' clients with daily activities such as personal grooming, light housekeeping, walking, positioning, meal prep, shopping and feeding, among other things.
The program is open to churches, nonprofits, medical organizations and entrepreneurs with a 501(c)3 status. Any "able-bodied" person with a clean background check and at least a high school diploma can become a personal care attendant, she said.
The virtual forums are scheduled for:
– Friday, May 7, from 10:30 a.m. to noon, and
– Tuesday, May 11, from 1:30-3 p.m.
Those interested can register for one of the sessions by contacting the DHS Medicaid Division at 340-772-7100 ext. 7186 or sending an email to pcamap@dhs.vi.gov.
Stimulus Checks
Bryan also announced that the first set of $1,400 stimulus payments will be mailed later this week, as the Finance Department has finished issuing the final $600 payments to taxpayers.
The Bureau of Internal Revenue sent $600 checks to 41,524 of the approximately 45,000 residents who filed their 2019 tax return, the governor said. The remaining individuals either didn't qualify because their income was too high, or because there is an issue with their 2019 filing, he added.
Taxpayers who did not receive a $600 stimulus payment and believe they meet the qualifications for eligibility can contact the Bureau of Internal Revenue at its hotline number, 340-714-9325.