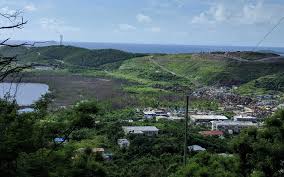 The Virgin Islands Waste Management Authority advises the public that seaweed will be accepted at the Bovoni Landfill only on Thursdays and Fridays as per the following guidelines:
Loads will be accepted at the back of the Bovoni Landfill by the western berm facing Bolongo Bay.
Utilize the old access road. Drive up to the top, veer to the left, go around the hill, then proceed down the hill to the western berm.
Trucks are expected to turn around, then reverse and off-load.
Everyone is asked to use caution when traversing the landfill.
Businesses are reminded that it is against the law for waste generated at commercial establishments to be deposited at residential bin sites.
VIWMA thanks the community in advance for their cooperation.
For more information, contact the Division of Education and Communications Management at 513-4171 or email communications@viwma.org. The VIWMA hotline is available 24/7: 844-962-8784. Also, follow VIWMA on Facebook, LinkedIn and/or Twitter.