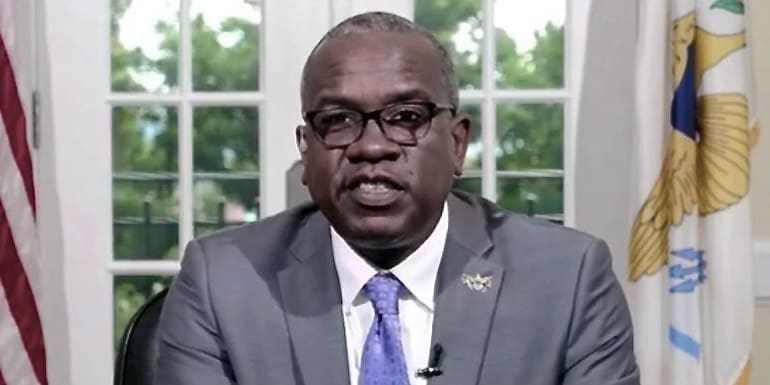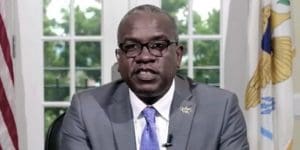 On Thursday, Governor Albert Bryan Jr. submitted legislation to the Virgin Islands Legislature proposing to use approximately $20 million to pave, resurface and install proper drainage to more than two dozen roads throughout the territory.
The governor's proposal provides $9.6 million to address 13 road projects on St. Croix and $8.35 million to address 14 road projects in the St. Thomas-St. John District.
"With the dozens of road and other capital projects already underway, the Department of Public Works is maintaining the momentum by looking ahead to the next batch of road projects to get shovel-ready," Bryan said. "I'm asking my colleagues in the 34th Legislature to earmark which projects to prioritize so DPW can continue its excellent job and start the next stages of our territory's recovery."
Bryan is requesting an appropriation of $19.6 million of excess funds in the Debt Service Reserve Fund to be used for a list of urgently needed capital road projects, and he is asking the Senate to determine and earmark funds for the specific projects that have been prioritized by the Department of Public Works.
The list of projects also contains a proposal for replacing the boat ramp and parking lot at Hull Bay on St. Thomas and a request from the V.I. Port Authority for funds to complete the fendering that is almost complete along Veterans Drive Waterfront on St. Thomas.
Among the numerous road projects on DPW's prioritized list are re-milling and paving Queen Mary Highway and drainage and repaving on roads in Strawberry Hill, Upper Love and Union as well as Mount Washington, Whim, Estate St. John, Estate Richmond, Mount Pleasant and Calquohoun on St. Croix.
In the St. Thomas-St. John District, DPW priorities include drainage improvement and repaving in Estates Misgunst and Lerkenlund, Estate Hope, Estate Pearl, Frenchman's Bay, Estate St. Peter, Lilliendal and Marienhoj, Estate Mandahl and Smith Bay, as well as portions of Lionel Berry Scenic Drive, on St. Thomas and drainage improvement and repaving to portions of Route 10 (Centerline Road) in Cruz Bay, portions of Route 10 in Estate Carolina (East End Road) and portions of Route 107 in Coral Bay.
The Bryan-Roach Administration is committed to transparency, stabilizing the economy, restoring trust in the government and ensuring the disaster recovery is completed as quickly as possible.