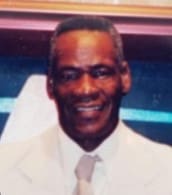 Renardo Christopher, affectionately known as "Renaldo" or "the lonely one," died on Feb. 10 in the comfort of his home.
He was born on Tortola, British Virgin Islands, and he resided on St. Thomas, V.I.
Renardo was survived by his wife of 54 years, MayRose Frett-Christopher; son, Renardo Christopher Jr.; daughters: Rosemarie Christopher-Jones and June Smith-Bramble; sons-in-law: Todd E. Jones and Anthony Bramble; granddaughters: Zerinah S. Christopher, Zerdaisha C. Jones, Bianca Caleb and Toni Bramble; and grandsons: Jared R. Christopher, Jacey R. Christopher and Bjorn Caleb.
He is also survived by sisters-in law: Adelina Frett, Madeline Frett-Smalls, Olivine Frett-Farrell, Magarita Frett-SeIkridge, Sylvanita Frett-Mayers, Judith Frett, Yvonne Frett-Hilaire and Nidia Ocana-Frett; brothers-in-law: Etien O. Frett, Rudyard W. Frett, Evans "Amor" Frett, Vincent Selkridge, Jeremiah Mayers and Victor Hilaire; and other relatives and friends too numerous to mention.
The viewing will be 9 a.m., followed by a funeral service at 10 a.m. on Friday, March 5, at Wesley Methodist Church in Anna's Retreat. Interment will take place at Eastern Cemetery.
Due to the COVID-19 pandemic and public health guidance, masks or facial coverings must be worn at all gatherings.