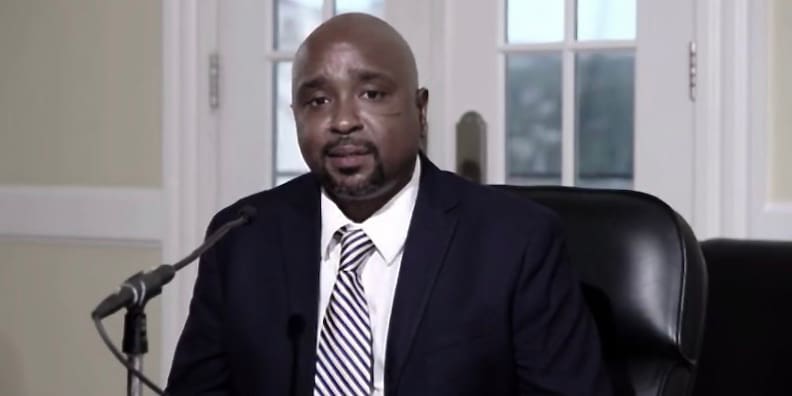 Touting "good news and more good news," Gov. Albert Bryan Jr. reported the first $9.4 million in COVID-19 relief checks were put in the mail on Monday for 10,000 Virgin Islanders, and, separately, called on the V.I. Legislature to move swiftly on the nomination of Derek Gabriel for the territory's new Department of Public Works commissioner.
In a news conference on Monday, Bryan announced that a second round of relief checks was to be delivered to the first 10,000 residents. He encouraged taxpayers who have yet to file for 2019 to do so by the March 15 deadline.
"Otherwise, no check," he said.
As a reminder for Social Security recipients who do not have a filing requirement, Bryan said there is no need to file a return. Instead, the Bureau of Internal Revenue will use the same information received by the federal government during the first round of checks to issue the second payment.
The BIR has set up a hotline at 340-714-9325 for questions on the checks and tax refunds.
Meanwhile, the territory has received $21 million in federal funds to help residents unable to pay their residential rent. Details will be forthcoming on how to tap into the money, and Bryan said checks will be cut to landlords instead of renters to make sure the outstanding amounts are paid.
Separately, the governor said his nomination of Gabriel to lead the Public Works Department will help move ahead critical disaster relief projects and bring more online in the coming year.
Gabriel, a 2000 graduate of All Saints Cathedral School, is currently the territorial manager for APTIM and provides strategic support for program operations for all ongoing recovery projects across all of the company's service lines. Gabriel is also is a former Property and Procurement deputy commissioner and served as a manager of The Lumberyard on St. John, where he helped oversee recovery efforts after the property was destroyed by hurricanes Irma and Maria.
Adding that engineers are historically tapped to lead Public Works, Bryan said the government is making a "concerted effort" to have a project manager with procurement experience to bring more projects forward.
"Before, we had engineers who were focused on designing projects and the specifics," Bryan said. "We have an engineering department at Public Works. What we need now is we need to get these projects through procurement, get them going, get them approved and get the work done. And there are a lot of little things in this territory that we need to attend to. We want to make the roads a little bit smoother, our guts a little cleaner and do the things that make us as municipalities function better."
Gabriel, whose nomination will soon be considered by the Senate, said is "excited to serve" and make sure the department continues to "improve our infrastructure and get our capital projects going."