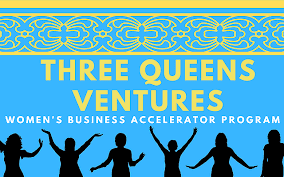 Women business owners in the U. S. Virgin Islands have an opportunity to build viable, resilient businesses that will have a global market presence.
(Supporting, Empowering, Advising, Training) SEAT Innovation and Entrepreneurship Center (SEAT IEC), the nonprofit division of SEAT Caribbean LLC, has announced the launch of the Three Queens Ventures Women's Business Accelerator Program. This program will support female entrepreneurs in the U.S. Virgin Islands (U.S.V.I) who are interested in growing or expanding their current businesses.
Three Queens Ventures was made possible, in part, through a grant furnished by the Community Foundation of the Virgin Islands.
The initial focus of Three Queens Ventures will be on female makers, artists, craftspeople, designers and small batch manufacturers who reside in the U.S.V.I. and whose products are made and manufactured in the territory. Through an individualized business development program, each entrepreneur will enhance her skills, acquire new knowledge and training, learn best business practices, and receive mentorship and guidance from professionals. Additionally, every participant will have an opportunity to access seed funding and potential market partnerships that are critical to her business.
Three Queens Ventures aims to build a collective comprised of a network of like-minded women whose primary objective is to scale their existing business for success, while providing employment opportunities and contributing to the economic development of the U.S.V.I.
"We look forward to providing a platform and an opportunity for creative women to build and enhance their brands in a supportive and empowering environment," said Beverly Goodwine, co-founder of SEAT Caribbean/SEAT IEC.
Sonja Sulcer, co-founder of SEAT Caribbean/SEAT IEC, said, "We are excited to launch the venture and look forward to helping the women maximize their potential."
About SEAT IEC
SEAT stands for Supporting, Empowering, Advising, Training. SEAT Innovation and Entrepreneurship Center Inc. (SEAT IEC) is a U.S. Virgin Islands 501(c)(3) non-profit organization that empowers entrepreneurs within the territory because they are one of the primary vehicles through which a community's economy can grow.
The mission of SEAT IEC is to support, empower, advise and train individuals who have traditionally been underrepresented in the small business arena.
For more information about Three Queens Ventures, go to https://www.seatcaribbean.com/three-queens-ventures.