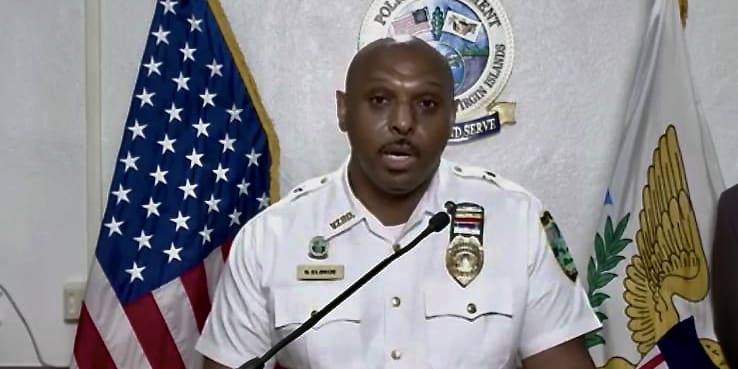 Praising the quick work of the Criminal Investigation Bureau, officials of the V.I. Police Department announced at a news conference Friday afternoon that they had arrested 23 year-old Rajah Caul and charged him with the Jan. 12 murder of Michael Cruz, whose body was found in a parking lot in the Gallows Bay business district.
The bureau had executed a search and arrest warrant for Caul on Friday and charged him with first-degree murder. Bail was set at $1 million, and unable to post it Caul was booked and transported to the Golden Golden Grove Correctional Facility where he awaits on advice of rights hearing on Monday, according to St. Croix District Police Chief Sydney Elskoe.
Elskoe said the 911 call center received reports of shots being fired in Gallows Bay around 7:05 a.m. Jan. 12. Additional reports of "someone lying on the ground of the parking lot" in the Gallows Bay business district were also filed, he added. Officers at the scene confirmed finding Cruz's body and observing multiple gunshot wounds.
Along with thanking teams within the Criminal Investigation and Special Operations bureaus, Elskoe offered his gratitude to several members of the community who "spoke up and didn't allow violence to strangle us with fear." Asked Friday whether there was a suspected motive in the murder, Elskoe said one had not yet been found, though Cruz was said to have also been facing separate murder charges at the time he was killed.
"Silence is not an option," Elskoe said. "We must acknowledge as a society we are all one. If you do not speak up you cannot hold those who terrorize this community accountable."
Rounding out Friday's news conference, Deputy V.I. Police Chief of Operations Celvin Walwyn reminded residents to practice social distancing, mask wearing and hand washing over the upcoming holiday weekend. Beaches, he added, close at 4 p.m. Saturday, Sunday and Monday, which is observed as Dr. Martin Luther King, Jr. Day.
Buck Island on St. Croix will also close at 4 p.m., he said.