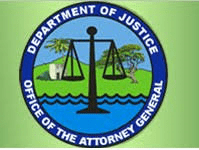 V.I. Attorney General Denise George has announced that the Department of Justice has again adopted two families as a participant of the Adopt-A-Family program through the Family Resource Center. Employees purchased Christmas gifts and personal care items for the families and presented them to the center on Wednesday, Dec. 23.
The V.I. Department of Justice partners regularly with the Family Resource Center on many programs. The center is a non-profit agency that assists victims of violent crime, families in crisis, domestic violence and sexual assault. They offer counseling programs, a shelter and more to clients.
Elma Braithwaite, DOJ Victim Services coordinator, said staff members are always willing to give. "We reached out to the staff, and they were more than happy for the opportunity to participate. Last year we adopted one, this year we saw the need and adopted two families."
"We are so excited that the Department of Justice has partnered with us once again and increased the donation to two families. We have several families we serve and around this time of year; we want to be able to give as much as possible. The need was bigger this year in light of the challenges many are facing," said Vernon Araujo, director of development for the Family Resource Center.
"Our clients, staff and board members are very thankful, and the family is very happy to receive the gifts that will enable them to have a happy holiday," Attorney General Denise George said. "Christmas is all about giving. I am so proud that we have such a giving staff. This was again a great opportunity for our Department of Justice family to give to less fortunate families in our community for this Christmas season, and it was all made possible from their donations."
The families consist of a single mother with a 9-year-old girl and 10-year-old boy, and a single father with a 9-year-old girl and a 10-year-old boy.