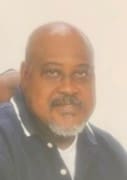 Mario G. Hodge died on Nov. 20.
He survived by his wife, Celina Hodge; sons: Derrick Hodge, Mario Hodge Jr., Rudel Hodge and Eric Jacob Hodge; daughters: Tasha Hodge–Stoudmire, Tangenique Hodge, Tanisha Hodge, Mia Hodge-Hedrington, Paulette Joshua, Patrice Joshua and Michelle Joshua; brothers: Romeo Hodge, Warren Petersen and Elroy Petersen; and sisters: Eva St. Juse and Sonia Pemberton.
He is also survived by grandchildren: Te'NiQuah Francis, TeQuan Francis, Temoi Thomas, TeShaynea Stoudamire, Te'Ron Stoudamire, Te'Vante Leon, Te'Lani Hodge, Jason King, Rudel Hodge Jr., Christina Hodge, Rojhan Hodge, Jania Parker, Te'Koi Smith, Deanna Pinckney, Eric Jacobs Jr., Isaiah Jacobs, Elijah Hodge, Te'ron Hodge, Julien Hodge, Ja'Quan Hodge, Jamiqua Cooper, Marisel Hodge, Shamara Fahie, Shamoy Fahie, Shaqueena Penn, Shamel Joshua, Shakeem Penn, Randy Evans and Tiauna Donadelle; great-grandchildren: Isaac Peyton, Davar Tramil, Javarius Tramil, T'Liah Thomas, Teigah Thomas, Tyceon Singletary, Anthony Likely, Autumn Pinckey August Pinckney, Jahzay Cooper, Kaiden Parker and Cali Pannell.
The first viewing will take place from 3-5 p.m., Tuesday, Dec. 15, at Turnbull's Funeral Home. The second viewing will be held at 9 a.m. followed by a funeral service at 10 a.m., Wednesday, Dec. 16, at Blyden Chapel. Interment will be at Western Cemetery No. 1.