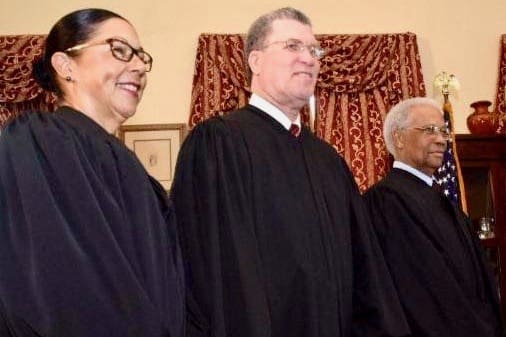 Three years after a former captain from the V.I. Police Department was sentenced to 40 years in prison for killing his wife, the Virgin Islands Supreme Court upheld the four-count conviction of Enrique Saldana.
In March 2017 a jury found Saldana guilty of second-degree murder, two counts of second-degree assault and one count of third-degree assault. The jurors declared all of the offenses acts of domestic violence.
Saldana's lawyers filed an appeal shortly after he was sentenced on May 30, 2017. His attorneys said prosecutors with the V.I. Justice Department failed to establish a motive for the killing of Jeanette Magras Saldana, the defendant's wife. They also said jurors did not receive instructions that would have helped them decide if Saldana was intoxicated at the time the killing occurred, as stated by some witnesses.
Finally, the defense challenged a specific lab report documenting the cause of death – an overdose of diphenhydramine, better known by its commercial name, Benadryl. V.I. Medical Examiner Francisco Landron testified at trial about the cause of death. He was followed by expert witnesses who added specifics.
Jeanette Saldana was declared dead by medical personnel at the Roy L. Schneider Hospital on May 2, 2014, after her husband Enrique Saldana brought her into the emergency room. Police arrested the husband after emergency room attendants noticed extensive bruising over the victim's body.
The merits of the appeal were argued before Chief Justice Rhys Hodge and Associate Justices Maria Cabret and Ive Arlington Swan on March 12, 2019. The ruling, rejecting the defense arguments, was filed on Nov. 20. Swan wrote the opinion, upholding the jury verdict.
The motive, he said, came in testimony by Jeanette's relatives that she wanted a divorce. The omission of jury instructions as to whether Enrique was voluntarily intoxicated at the time of the crime was not enough to overturn the verdict, Swan said.
Then the opinion writer addressed the constitutional matter – the rights of the accused to confront their accusers in court. In the appeal, Saldana's lawyers said they were denied that right. But Swan cited two occasions where neither the defendant nor his lawyers raised a violation of the Confrontation Clause to a generalized statement about the cause of death. As the objection narrowed to the measurable amount of Benadryl found in the victim's body, prosecutors brought Dr. Sheri Kacinko to the witness stand.
As part of her testimony, Kacinko said she routinely reviews reports produced by associates working in the lab she supervises. High court judges ruled the details provided at trial satisfied the constitutional requirement.
"Hence, the witness was produced for effective cross-examination, and the Confrontation Clause was satisfied," Swan said.
Editor's note: This story has been edited to reflect the correct name of the victim, Jeanette Magras Saldana.