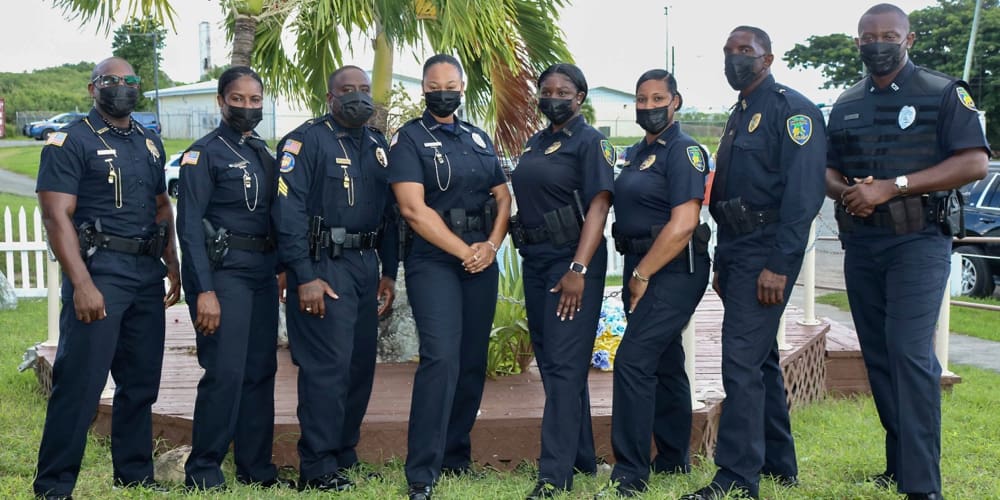 The VIPD revealed its new uniforms at a ceremony Thursday at the Patrick Sweeney Police Headquarters on St. Croix. The reveal was also broadcast live on the VIPD's Facebook page, arresting the attention of 2,500 viewers and garnering 50 comments.
Attendance was by invitation only, following social-distancing guidelines from the Center for Disease Control and Virgin Islands Department of Health for fighting the spread of the coronavirus.
Speakers included Executive Assistant to the Police Commissioner Cyndee Ible-Frontal acting as master of ceremonies, acting Deputy Chief of Police for St. Croix Sean Santos, Gov. Albert Bryan Jr. and Police Commissioner Trevor Velinor.
After being introduced by the master of ceremonies, 10 officers strutted their stuff on the "runway" to upbeat music, as the emcee highlighted the new uniform features. Officers showing off the new uniforms were Michael Jules, Shanice Mills, Amalee Lockhart, Vanessa Richardson-Fieulleteau, Kirk Fieulleteau, Ivoree Friday, Stephanie Gabriel, Melissa Gilbert, Uston Cornelius and Simba Abiff.
The new uniforms will be adopted territorywide in the coming months. Santos said he hopes for January. They are paid for and the manufacturer, Flying Cross, is working on them, Santos said. A number of options were proposed and voted on by all VIPD officers, who ultimately decided on the Flying Cross uniforms displayed at the ceremony.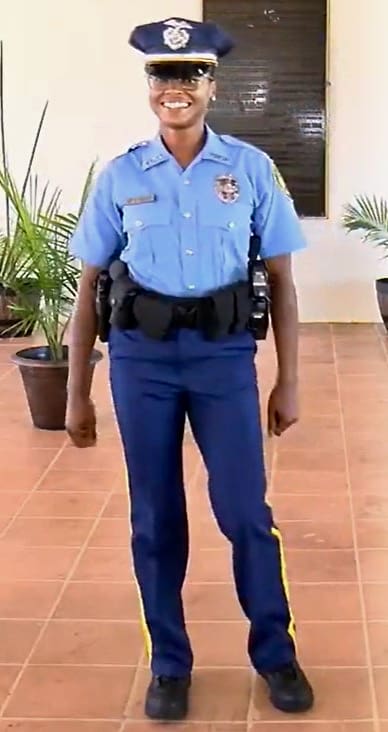 The idea for a uniform change came about in the last few years. The alteration serves two purposes: fashion and function.
Out go the light, powder blue shirts and the pants with the yellow stripe. In come darker, navy blue uniforms. The classic, eight-point hats will remain unchanged.
The new uniforms are better adapted to a Caribbean climate and will better meet the physicality and maneuverability requirements of the job, the department said. Over the years, officers have complained the old uniforms were too hot and lacked flexibility. The new uniforms are made of a synthetic/hybrid blend of materials allowing for more breathability and ventilation. The new shirts both button up and zip down and distinctive pockets have been added to the pants. The officers will don black, clip-on ties when making court appearances and attending formal events.
In his closing remarks, Commissioner Velinor highlighted an ulterior motive, of sorts. He hopes the new uniforms will inspire new recruits to consider a career in local law enforcement.
Also attending the ceremony in person as invitees were Deputy Commissioner of Operations Dr. Celvin Walwyn, St. Croix District Chief of Police Sidney Elskoe, Candia Rivera, on behalf of Delegate to Congress Stacey Plaskett, St. Croix Administrator Sammuel Sanes, and retired Police Sergeant Betty Wilson.
The event can be viewed online on the department's Facebook page.