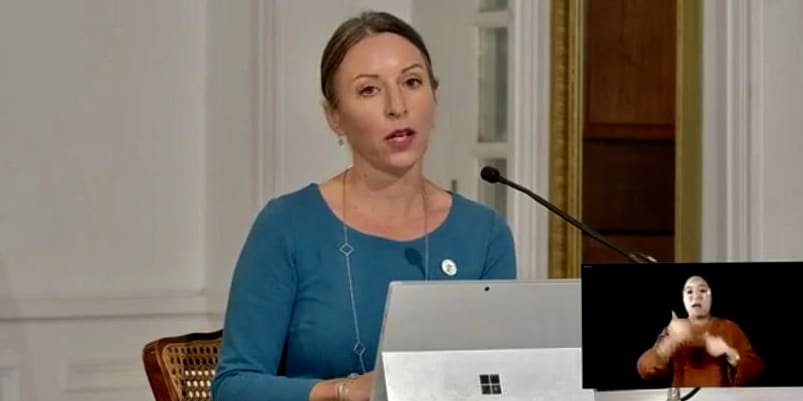 With the weekly COVID positivity rate up to 3 or 4 percent, the V.I. Department of Health on Monday stressed continued adherence to local public health guidelines, particularly as cases reach record numbers on the mainland and residents continue to travel or hold mass gatherings.
Speaking at Monday's government news update, Health's Epidemiologist Dr. Esther Ellis said the territory is in a "good place" with testing and is able to offer multiple options, while new electronic contact tracing is being used to track positive cases and contacts of positive cases, and soon will be used to track all passengers coming into the territory for the incubation period of the virus.
However, Ellis said, as Health works to develop a distribution plan for a potential COVID-19 vaccine, officials still do not know when it will get here, though the territory is set to receive its shipments at the same time as other states. Vaccine makers Moderna and Pfizer have reported 95 and 90 percent effective rates, respectively, in initial tests. Pfizer's vaccine requires freezer storage and dry ice transport.
The territory is looking at both options, but in the meantime, Ellis said it is critical for residents to follow the guidelines put in place to prevent exposure to and spread of the virus. She added that Health officials have observed an increase in mass gatherings and events, along with residents traveling to the mainland on weekends for quick trips. Traveling greatly increases the chance of contracting or being exposed to COVID, particularly as COVID rates surge once again in the states, she said.
Meanwhile, Health teams are available to help residents plan events locally, Ellis added.
"We don't want people to get sick from celebrating what should be a happy moment," she said. Residents are encouraged to send an email to inspection.deh@doh.vi.gov for additional information.
Locally, 26,110 residents have been tested and of that number, 1,434 have tested positive for the virus and 24,635 have been negative. There are 40 active cases being tracked, and 23 deaths reported to date. The Gov. Juan F. Luis Hospital on St. Croix currently has no COVID-positive patients, while Schneider Regional Medical Center has reported one.
Ellis said residents should be aware of any changes in their health and be mindful of their interactions. For more information or to get tested, residents can visit the Department of Health website, the government's testing site or call 340-712-6299 or 340-776-1519.