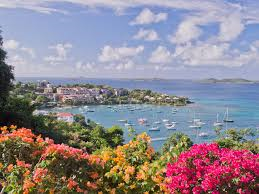 Following guidance from the White House, Centers for Disease Control and Prevention (CDC) and territorial public health authorities, Virgin Islands National Park is increasing access.
The National Park Service (NPS) is working service-wide with federal, state and local public health authorities to closely monitor the COVID-19 pandemic and using a phased approach to increase access on a park-by-park basis.
Beginning on Friday, Oct. 23, Virgin Islands National Park will reopen access to the Cruz Bay Visitor Center. Initially, hours of operation will be 9 a.m. to 3 p.m., Monday, Wednesday and Friday. Hours will expand in early November.
In addition, all park trails and toilets are open, and water sports gear rental and food services at Trunk Bay continue to be available. Fees are being collected at Trunk Bay and for vessel mooring.
The health and safety of the park's visitors, employees, volunteers and partners continue to be paramount. At Virgin Islands National Park, the operational approach continues to be centered on examining each facility function and service to ensure those operations comply with current public health guidance and are regularly monitored. The V.I. National Park continues to work closely with the NPS Office of Public Health using CDC guidance to ensure public areas and workspaces are safe and clean.
A safe and enjoyable park experience begins at home. The NPS encourages visitors to plan their visit by checking the park's website and social media for current conditions and travel tips. The CDC has offered guidance to help people recreating in parks and open spaces to prevent the spread of infectious diseases.
The National Park asks the public to be partners in recreating responsibly by following CDC and state and local guidance, social distancing, as well as wearing a face covering when social distance cannot be maintained.
Updates on park operations will continue to be posted online at http://www.nps.gov/viis. Updates about NPS operations will be posted on www.nps.gov/coronavirus.