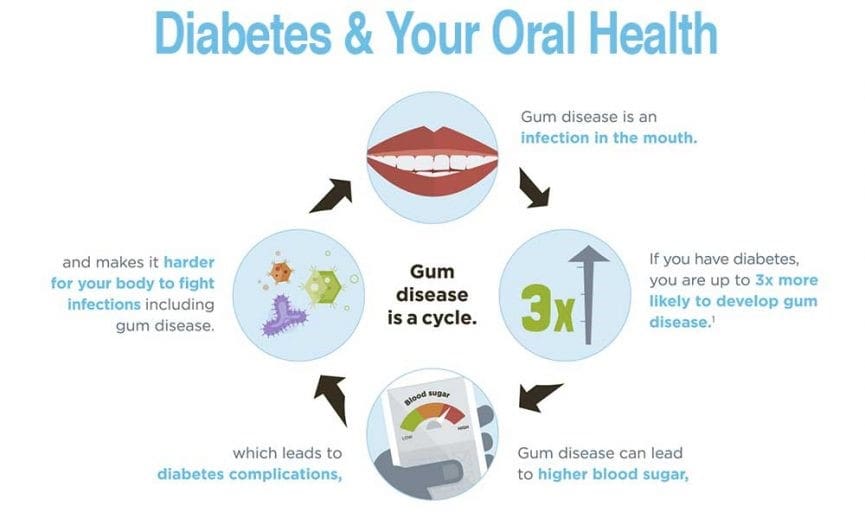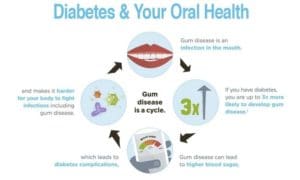 The dental team at Frederiksted Health Care advises people what they are up against so they can take control of their oral health.
If you have been diagnosed with diabetes, it's important to make sure that you take good care of your oral health.
Diabetes affects your body's ability to process sugar. All food you eat is turned into sugar and used for energy.  Uncontrolled diabetes results in high blood sugar levels which can cause problems with your eyes, nerves, kidneys, heart and even your mouth.
Managing your blood sugar level is key.  Follow your doctor's instructions for how to check your blood glucose level regularly at home. Keep your sugar levels within the recommended target range given by your doctor. Visit your doctor at least every three months to monitor your A1C. Your A1C indicates how well you are controlling the sugar levels in your blood.
Warning signs and symptoms of diabetes include:
Excessive thirst
Frequent urination
Weight loss
Blurred vision
Skin infections
Delayed wound healing
Dizziness, lightheadedness or loss of consciousness.
Red, swollen gums that bleed easily
Loose or shifting teeth
If you are diabetic, it is important to take steps to keep your mouth healthy.  One in five cases of total tooth loss is linked to diabetes. The good news is that prevention is in your hands and you can take charge today.  Be aware of your increased risk for oral diseases and be on the lookout for other signs or symptoms that may show up in your mouth, such as:
Change in the Taste of Food: Some flavors may not taste the same as you remember.  A persistent bad taste in your mouth should be mentioned to your dentist.
Thrush (Oral Candidiasis): You may be more prone to develop thrush, which is an oral infection caused by yeast. Thrush appears as white and red patches on your tongue and on the insides of your cheeks.  It can cause a painful, burning sensation.  There are prescription medications to help treat it. Call your doctor as soon as possible.
Dry Mouth (Xerostomia): Saliva keeps the mouth moist and reduces the risk of developing tooth decay.   Dry mouth can also promote the growth of candida and contribute to thrush. To minimize or alleviate dry mouth, try sipping on water, chewing sugar free gum, or using over the counter products like Biotene to get saliva flowing. Be sure to mention to your doctor if you feel your mouth is unusually dry.
Gum Disease (Periodontal Disease): Have you noticed bleeding gums when you brush or floss? That may be an early sign of gum disease. People with diabetes are more prone to develop infections, especially periodontal disease.  This chronic inflammatory disease can destroy your gums, the tissues supporting your teeth and the supporting bone which can then lead to loose teeth that move, shift and may eventually lead to early tooth loss. Periodontal disease is the most common dental disease affecting those living with diabetes and it may also make it hard for you to control your blood glucose levels.  Preventing and treating periodontal disease with regular dental cleanings can help manage your diabetes.
To help prevent lifelong damage to your teeth and gums, take diabetes and oral care seriously.
Diabetes Dental Health Action Plan
Control your A1C
Take all medications as directed
Eat a balanced diet low in sugar and carbohydrates
Avoid smoking and alcohol
If you wear any type of denture, clean it each day and remove it nightly
Make sure to brush your teeth twice a day with fluoride toothpaste; especially before bed
Clean between your teeth at least once daily; use floss, interdental brushes, or a water flosser
Use alcohol free fluoridated mouthwash as directed
Use products that combat dry mouth
See your dentist for regular checkups at least twice per year. Make sure your dentist knows that you have diabetes and come with a current list of your medications and recent A1C number. Appointments can be scheduled to accommodate your medication and meal times.