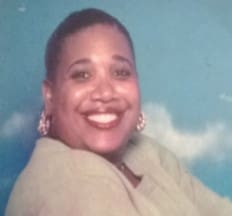 Carolyn VanHolten Burgess died at her residence. She was 57 years old.
She was preceded in death by her father, Eleazar VanHolten; brother, Bryan VanHolten; aunts: Mona Dennery, Delores Harrigan, Joyce and Berenice Hendrickson.
She was survived by her mother, Orine Christopher; husband, Andre Burgess; daughter, Andrѐa Burgess; sisters: Lisa Brooks, Tarana Skinner, Orisa Seraphin, Gail, Cherese, Sharline and Sibyl VanHolten; aunts: Grace Xavier, Lottie V. Lockhart, Luna Frett, Alicia and Willa VanHolten; and uncles: Elroy Milliner, Dale, Gilbert, Olanzo, Wesley, Ronnie, Reinaldo and Perry Hendrickson, George, Esau, Donald (Sal), David and Almando VanHolten.
She is also survived by nieces: Jessica Duran, Nejah and  Dejah Ottley, Elicia Baxter, Pepsi'Ana, and Pepsynique Wilkins, Se'koia and Se'Myah Jones, Ahniyah Brathwaite and AhZion Greenaway; and nephews: Marco Colon, Jaquan and Jakeem Bedminister, T'Quan VanHolten, Jerome Mercer Jr., Ajani Brathwaite Jr., Re'Kyle and Re'Kaijah Jones, and Enrique Wilkins.
The memorial service for Carolyn VanHolten Burgess will be held at Turnbull's Funeral Home and Ceremony Services. The date is pending.
Due to the health crisis and resulting government guidelines, face coverings must be worn at all gatherings. Please note that there is a mandated limit of 50 people at the service.