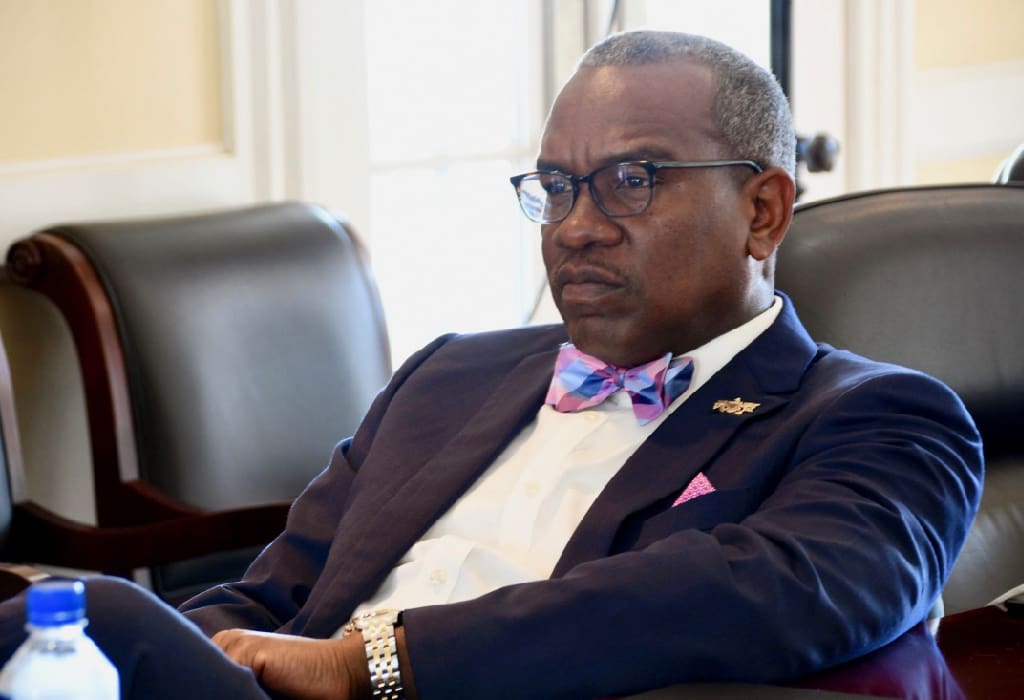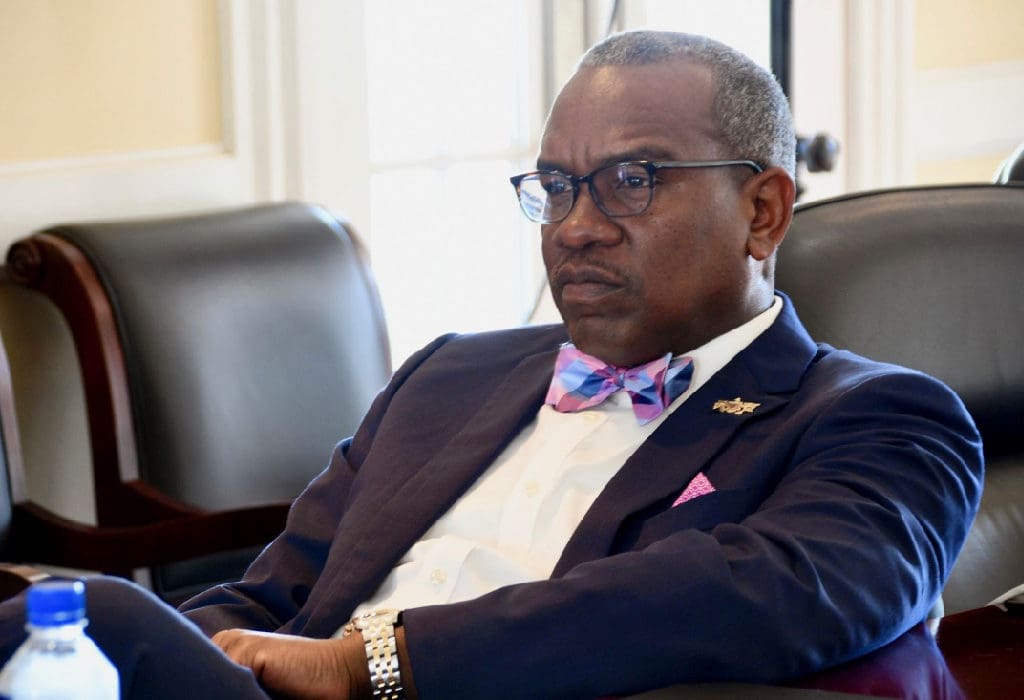 Gov. Albert Bryan Jr. said Friday he remains determined to find a solution for government retirees facing imminent pension cuts after his bond debt refinancing plan was derailed in court — and he warned that some who sowed seeds of doubt about the legislation are eager to see the Virgin Islands end in bankruptcy, just like neighboring Puerto Rico.
"Currently our financial team is looking at the transaction again and seeing what we can do. It's sad, because whatever we do, it's certainly not going to be as good as it was before. But we've got to be able to, number one, lock in these lower interest rates, save some money and, primarily, get some cash going into the retirement system," said Bryan, speaking from Florida where one of his daughters is undergoing medical tests.
Without some kind of intervention, Bryan is certain that government retirees will be facing a 42 percent cut to their pensions come January, with fallout for the broader economy possibly much worse down the road.
"The pressure from the financial community that is not invested in the Virgin Islands is for the Virgin Islands to be forced into bankruptcy and then restructure our debt, pennies on the dollar, and start out again. With that, you could end up with a PROMESA situation. The financial people have made almost a billion dollars on Puerto Rico's situation and it hasn't really gotten that much better," said Bryan, referring to the federal Puerto Rico Oversight, Management, and Economic Stability Act of 2016 that established an oversight board in order to combat the island's government-debt crisis.
"We do not want to go there. We do not want the Virgin Islands in a PROMESA. That is why we are looking at refinancing our debt at these lower rates and starting to chip away at our problems, because none of these problems were made overnight," said Bryan. "Certainly we don't think that we're going to come with a magic wand and eliminate these problems overnight."
The legislation Bryan had proposed, and that was narrowly passed by the Senate after numerous amendments in August and September, sought to refinance the government's bond debt at today's lower interest rates, secured by the roughly $200 million it receives each year in federal alcohol excise tax revenues.
Those revenues, from rum produced in the territory and sold on the mainland, would have been placed under the control of a separate entity known as a Special Purpose Vehicle, or SPV, which would have been charged with selling the rights to the rum monies.
The plan would have generated about $255 million in cash savings through 2023, another $20 million over the next seven years, and eliminated $1 billion from the government's balance sheet, said Bryan, as once the SPV was created, that money would have been the debt of the SPV, not the V.I. government.
With $85 million in bond payments coming due on Oct. 1, timely implementation of the legislation was critical, but it was derailed when an action for preliminary injunction was filed in V.I. Superior Court on Sept. 22 by The Russell Law Firm of St. Croix on behalf of the Government Retirees United for Fairness, or GRUFF, and government retiree Hugh Clarke. The plaintiffs claimed that an amendment to Bryan's bill violated the Revised Organic Act of 1954.
The injunction was dismissed with prejudice on Sept. 28 by Judge Douglas Brady, meaning the plaintiffs may not file again on the same merits, but it was too late to salvage the bond deal.
Bryan was blindsided by the court action.
"It did take me by surprise because the people who stand to benefit the most were disrupting the process. The source of that, though, is years and years of mistrust for government officials and just a lot of misinformation about what we were trying to do," said Bryan.
"When I spoke to [the retirees], their primary concern was that the bill didn't say anywhere in it that [the funds] would be given to the GERS. Because of that they felt like they had been promised before and no one has done anything, so they wanted a firm commitment from me in order for them to proceed. I explained to them, I could commit to them until I am blue in the face, but it is up to the Legislature to determine where appropriations go."
Those questioning the merits of the refinancing plan included Robert D. Gordon, who wrote an open letter to local newspapers "on behalf of USVI Citizens and Retirees on Behalf of Government Retirees United for Fairness and St. Croix Government Retirees."
Gordon wrote, "At a time when USVI's finances are in a dire state, this Bill seeks (reserving all legal arguments as to its efficacy) to take one of USVI's most precious assets and place it in the control of creditors who do not live, work, buy goods and services, or pay taxes in USVI and to insulate those creditors from bearing any of the burden of reconstructing USVI's finances."
Gordon — who followed with another letter on Oct. 1 on behalf of the same group, this time urging against the government's $85 million bond payment — is a financial restructuring attorney and partner in the New York office of Jenner & Block LLP who currently serves as lead counsel for the Official Retirees Committee in Puerto Rico's restructuring proceedings. He also served as lead counsel for the two Detroit retirement systems in that city's landmark bankruptcy case.
While Gordon's Oct. 1 letter came with a disclaimer that "the opinions stated herein are not intended to and do not constitute legal advice to a client and are not intended to address by inference, analogy, or otherwise any matter other than the current matter," Bryan wondered at the motive.
"I don't know how he got affiliated with them, but he's not looking out for their best interests," said Bryan. "As a matter of fact, he is violating Virgin Islands law because he is giving legal advice and he is not [a member of the Bar] in the Virgin Islands. He's in New York, he is not in the Virgin Islands. He is not allowed to give advice in the Virgin Islands," the governor noted.
Bryan also questioned whether "they don't want us to be able to refinance our debt. It is more profitable for him and his firm to be able to force us into bankruptcy and then negotiate for pennies on the dollar," said the governor.
Helping to bail out GERS was the sole intent of his bill, said Bryan, though it is always up to the Legislature to determine how money is spent, and issues do arise – such as the recession of 2008 – that cause funds to be reappropriated.
"We're not trying to snow anybody. We don't want to be put in a situation where people feel they've been deceived, because that's the reason why GRUFF is coming after us now, because of previous promises," said Bryan.
"I'm not throwing potshots at previous governors. The one thing the community forgets – they remember the decision, but they always forget the circumstances that made previous governors make the decisions they made," said Bryan, referring to the great recession, when rum money was used to keep the government afloat. "People said, oh, but all the Diageo money was supposed to be for retirement. Yes, but then we faced the global recession of 2007 and 2008. We had to be able to keep people working and pay bills and we made it through. We would have had another $50 million to $60 million in revenue were it not for the global recession."
In short, Bryan said he has been flabbergasted by the pushback to his legislation.
"People keep confusing the issue and saying, oh, this $250 million won't save the retirement system, it's only going to kick it down a year and a half. Well, that was never the real intent. Just like the cannabis bill. Twenty million dollars isn't going to save the retirement system, but $20 million from cannabis, plus $20 million from [the securitization measure], plus $20 million from excise tax, plus $7 million from Limetree — that's $67 million of dedicated revenue over the next 10 years. Now you're working with some money," said Bryan.
As for the senators who voted against his bill, Bryan said he is appalled.
"This is purely politically motivated and I am appalled that our senators would take their own personal ambition over the betterment of 8,000 government retirees and 9,000 government employees. … I'm a big boy and I am willing to listen to what anybody else has to say, but no one else has anything to say," regarding a solution, said Bryan. "Not a one."
"The rhetoric from the legislators who were against this, and from all the people in the community that do not understand what we are trying to do, damages us every time they open their mouth, damages us, because the markets are listening," said Bryan. "A plan structured around bringing this to some type of conclusion is a very strong indicator to investors that we are serious about our fiscal situation."
Without a plan, government retirees "absolutely are looking at having a 42 percent cut. The [GERS] board has to do what it can to preserve the longevity of this system and, unfortunately, they say this is their way of doing it. And they are within their rights and authority," said Bryan.
"The one thing about us as a people, I don't think we have really accepted that there is no way to safety unless it's through danger. There's no way to get us to solvency without risk, and there is no way for us to fix everything except embrace change."