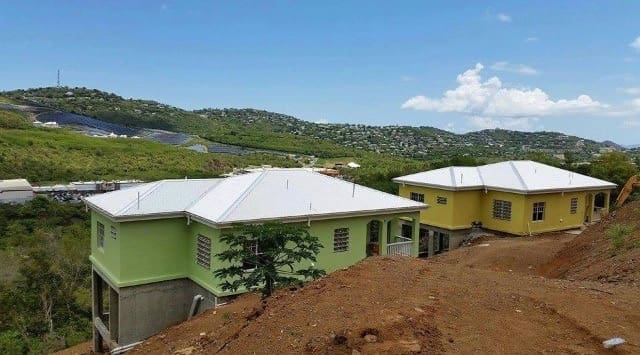 The V.I. Housing Finance Authority is seeking the public's assistance in deciding how to spend $1 billion of recovery money.
In a virtual town hall held on Wednesday evening, the panelists highlighted what was called the second amendment in the VIHFA's disaster recovery plan. The project funds are expected to aid in damages done to homes, roads and infrastructures by the 2017 hurricanes, Irma and Maria. The amendment includes $53 million for unmet infrastructure needs and other increases in funding.
The funds for disaster recovery get announced in separate allocations called tranches. The second amendment is part of Tranche 2a. The $53 million in Tranche 2a can be used for roads, shelters, waste management, water and sewer and under special conditions power generation.
Some highlights of the amendment presented at Wednesday's hearing include providing the V.I. Water and Power Authority with $95 million to purchase and install efficient power generators at the Randolph Power Plant on St. Thomas/St. John. Another highlight is the amendment's plans to spend $23 million to dredge approximately 255,118 cubic yards at the Charlotte Amalie Harbor.
Here are some updates for the second amendment:
Housing Program
– Homeowner program and rental program is budgeted at $50 million and the VIHFA is requesting an increase to a total of $150 million to allow more owners to work on their damaged homes.
– New housing and infrastructure program: $70 million is budgeted to the program that is very similar to the VIHFA homeowner program. The projects include Estate Solitude and Mt. Pleasant on St. Croix and Estate Fortuna on St. Thomas.
– Public and affordable housing development program: $81.5 million is expected to go toward this program and has several entities under this project such as Magen's Junction Associates 2, LLP, Croixville Preservation Associates L.P., Walter I.M. Hodge, William's Delight Villas, Ralph de Chabert Phase 1 and Donoe Redevelopment Phase 1, which were all affected by the 2017 hurricanes.
– Public services and public facilities programs: $500,000 to service programs that serve the public. For the public component of that program, they are looking at the University of the Virgin Islands, which will develop a 72,800 square foot multi-purpose complex located on UVI's St. Croix campus. Also, under this category is the Virgin Islands Department of Human Services, which is developing two projects, one on St. Croix and one on St. Thomas. The Herbert Greg Complex will be given $7.5 million for improvements to the facility. On St. Thomas the Queen Louise Home for the Aged will undergo a major remodeling.
Infrastructure Program
The infrastructure programs will be comprised of three components totaling $430 million.
– Infrastructure repair and resilience: $3 million will be given to the Virgin Islands Department of Public Works to conduct two road projects. On St. Croix, the "Northside Highway Improvement" which is a 6.5-mile highway, and the "Donoe Bypass Improvement" which is a two-mile stretch of highway. The repairs will be separated into two phases and the first phase will be under the disaster recovery.
– Electrical power systems enhancement and improvement: $7 million will provide potable water to approximately 320 households in Smith Bay and Frydendahl communities. The plan will also provide $95 million to the Randolph Power Plant on St. Thomas to improve the electrical power system infrastructure by purchasing and installing efficient power generators with a 9-10 megawatts capacity, not to exceed 40 megawatts.
– Ports and airports: $23 million to dredge approximately 255,118 cubic yards of Charlotte Amalie Harbor to provide additional keel to the seafloor clearance in the channel.
– Tourism industry support: $10 million will be provided to the V.I. Department of Tourism to administer a multi-pronged strategy to support small businesses and entrepreneurs in the tourism industry as well as establish a robust marketing campaign for the U.S. Virgin Islands.
– Workforce development: $17 million will be given to the Department of Labor to train 500 people over a 15-month period. It will also allow Labor to conduct on-the-job programs and programs to help residents become more marketable.
– Planning: $18 million will be provided to the Virgin Island Economic Development Authority to develop "Vision 2040," a long-term strategic economic recovery and development plan.
The deadline for public comment is Saturday, Oct. 3. To review the entire Community Development Block Grant – Disaster Recovery Plan you can visit the VIHFA website.
Those who want to can send comments by email to CDBGDR@vihfa.gov or by the U.S. Postal Service at:
VIFHA ATTN: Comm. Mgr.
100 Lagoon Complex Suite 4
St. Croix, VI 00804-3912
The full video of the virtual town hall can be found on Facebook.