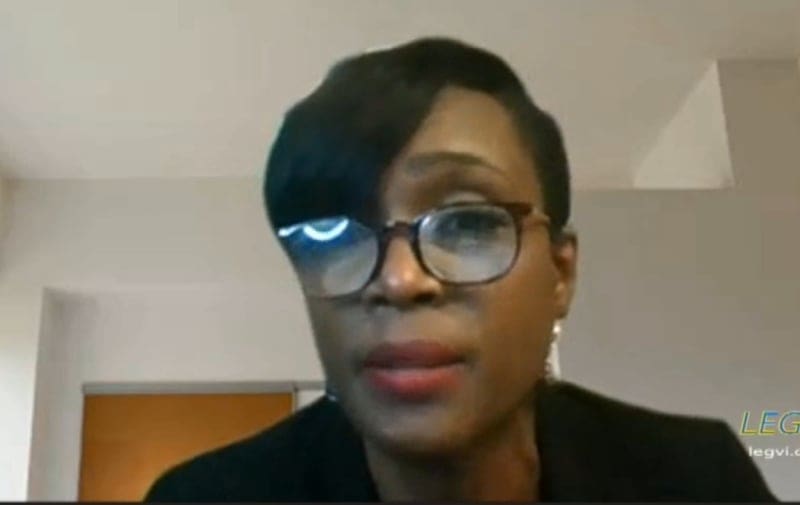 Despite the abilities of the V.I. Supreme and Superior Courts to conduct virtual hearings, child support and paternity hearings have halted since the pandemic hit in March, Attorney General Denise George told the Senate Finance Committee on Thursday.
The Paternity and Child Support Division of the Department of Justice is mandated to help establish paternity and enforce child support obligations, but George said the worldwide health crisis has forced the division to stop conducting hearings.
"What we've had to do, regarding the COVID situation, we had to make adjustments with respect to how we can conduct business, whether it's for persons coming for hearings or whatever it is, to try to reduce or eliminate persons from coming in for hearings. I have not banned hearings, in fact, we have had discussions about how we can efficiently conduct it virtually," George said.
Sen. Janelle Sarauw, who first questioned George about the hearing standstill, said that other cases have been successfully conducting hearings virtually.
"Paternity and child support is in crisis. They have been in crisis. There is no way today that we can't conduct Zoom, Microsoft Teams? Can we not partner with the courts and ask the court's IT what system they use? There is no creative way to have a Paternity and Child Support Division case to be heard?" Sarauw said.
When pressed, George said hearings will start taking place next week, but senators did not express confidence since the new week begins in only one business day – three days if the weekend is included.
"I just don't know how in seven months we have not had a paternity and child support hearing," Sarauw said. "Some of the reasons why we can't hear a case in seven months is lack of remote access to files, the pandemic, I mean it never ends."
While George refuted that lack of remote access for attorneys within the Paternity and Child Support Division had anything to do with the department's ability to host virtual hearings, Kathryn Jensen-DeLugo, the Paternity and Child Care Division program administrator, attempted to offer some clarity.
"The situation with remote access stems from some of our federal guidelines that we were, as you mentioned, in violation of, as far as our IRS mandates. We have since rectified our situation with the IRS and as such we are awaiting their approval for that remote access into our system. We have to be able to provide dual authentication, and we have to be able to provide proof that no one else can access whatever ISP the individual is using. As soon as that approval is granted everyone will be able to remote access into the system upon providing their documentation that they comply with the rules," Jensen-DeLugo said.
Expressing skepticism of the department's ability to start conducting virtual paternity and child support hearings in the week time frame George had specified, Sarauw said she would be checking in next week.
Separately, George provided Justice's 2021 fiscal year budget to the Finance Committee. The department's proposed allotment from the General Fund is nearly $18 million, which would be combined with federal grant funds of $9 million – a total of $27 million for the department.
Sens. Kurt Vialet, Donna Frett-Gregory, Sarauw, Marvin Blyden, Oakland Benta and Dwayne DeGraff were present for the Finance hearing. Sen. Allison DeGazon was absent.