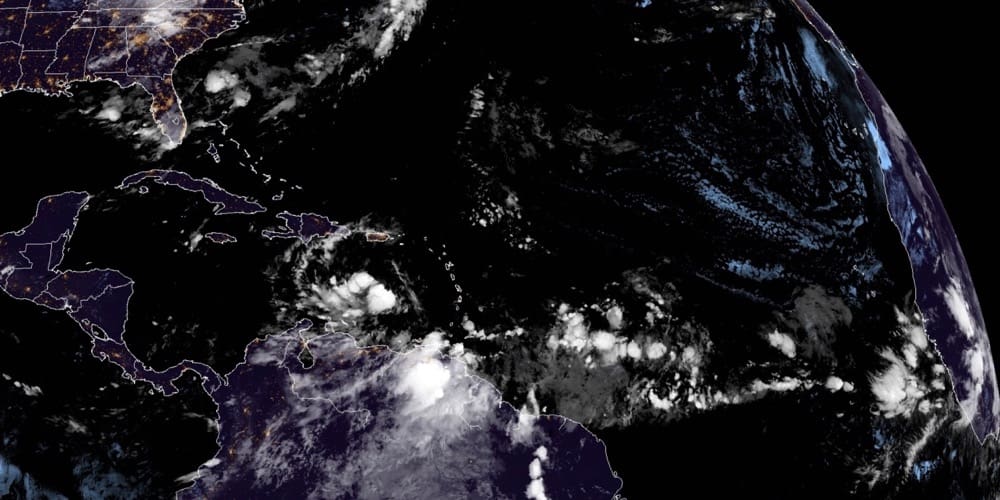 A tropical depression is likely to develop from a low-pressure system designated Invest 99-L crossing the eastern Caribbean, the National Hurricane Center reported Sunday in its 8 p.m. update.
The system, which poses little threat to the U.S. Virgin Islands, is just one of several the NHC is tracking as the 2020 Atlantic hurricane season reaches its traditionally busiest and most dangerous month.
The NHC gave the system a 70 percent chance of further development in the next 48 hours and an 80 percent chance of development within the next five days as it heads westward, reaching the central Caribbean on about Tuesday and then the western Caribbean by midweek.
This system poses no threat to the Virgin Islands as the models show a general westward track taking the system to the south of Jamaica by Tuesday night and into Central America by Thursday.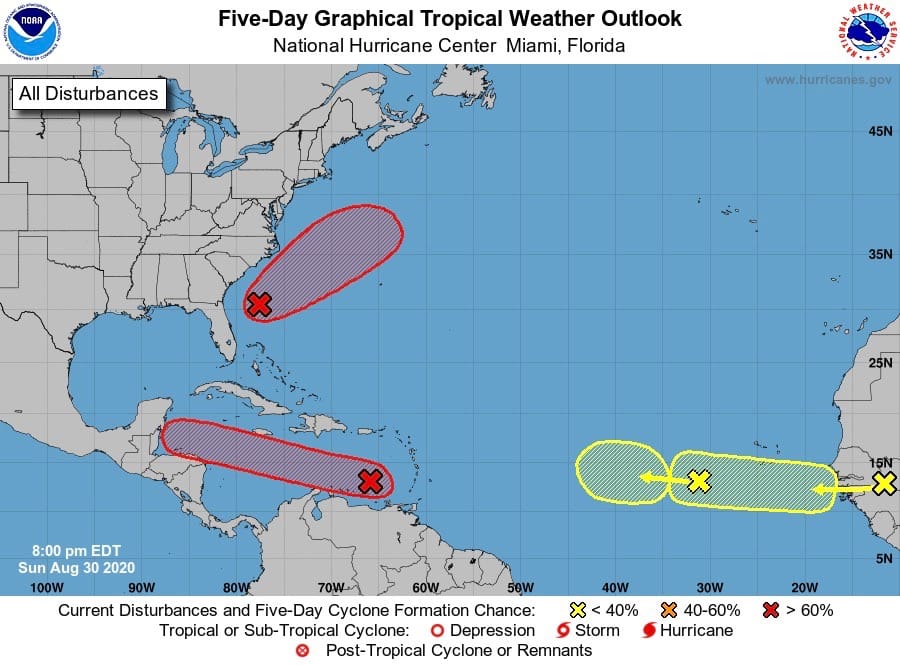 Meanwhile, a westward-moving tropical wave over the eastern Atlantic Ocean, several hundred miles southwest of the Cabo Verde Islands is producing limited shower activity, and any development of this system should be slow to occur due to unfavorable environmental conditions, the NHC said.
Yet another tropical wave is over the eastern Atlantic Ocean just southwest of the Cabo Verde Islands. This system is expected to move very slowly for the next several days, and some development is possible early next week over the eastern or central tropical Atlantic. There is a medium chance of development through five days, the center's meteorologists predicted.
To the northwest of the Caribbean, on the Florida coast, satellite and radar images indicate that an area of low pressure is developing a couple of hundred miles east of Jacksonville. Environmental conditions appear conducive for some additional development, and a tropical depression is likely to form by the middle of the week while the system moves northeastward or east-northeastward, initially parallel to the southeastern coast of the U.S. and then away from land.
And finally, the NHC expects a new tropical wave to emerge off the coast of Africa in a couple of days, the agency reported Sunday. Gradual development of this system will be possible through the end of the week while it moves slowly westward over the far eastern tropical Atlantic Ocean.
The NHC gave this system no chance of development within the next 48 hours, but a 30 percent chance within the next five days.