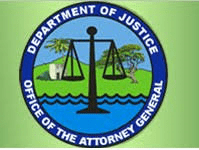 Attorney General Denise George reminds the public that the Sex Offender Registry, a division of the V.I. Department of Justice (DOJ), remains closed to the public due to COVID-19 and the territory's "Stay at Home" status. However, registration requirements remain in place.
Sex offenders who are residing, working or attending school in the territory and need to register or update their information must do so telephonically or via email. Offenders must understand that failure to comply with these obligations will subject them to prosecution for failure to register.
To register or update information, contact Inais Borque, Territorial Sex Offender Registry program manager, at inais.borque@doj.vi.gov or 773-0295 ext. 20250 on St. Croix. Contact Nyetifah Todman, Sexual Offender Registry coordinator, at nyetifah.todman@vi.gov or 774-5666 ext. 10191/ 714-9645 on St. Thomas.
This limited service will continue at the Department of Justice Sex Offender Registry until further notice.
For more information on COVID-19, visit the V.I. Department of Health website at www.doh.vi.gov/coronavirus,  or text COVID19USVI to 888777.