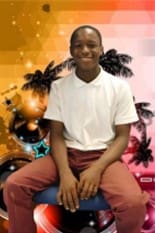 Friends and relatives are advised of the death of Aaron Nicolas Hamilton Ashby.
Aaron was preceded in death by his father, Ariel Ashby; paternal grandfather, Lester Ashby Sr.; and maternal grandfather, Stedman Hamilton.
Aaron was survived by his mother, Andrea Hamilton; sisters: Arnell Hamilton and Alissa Ashby; brother, Ariel Ashby Jr.; grandmothers, Elesena "Ms. Eileen" Turnbull and Vernerine Ashby; aunts: Loretta "Patsy" Herbert, Nathlie Swift, Bondolyn Swift, Colette Smith, Wendy Hamilton, Coleen Norris, Diane Hamilton, Dr. Charity Ashby, Ashley Ashby, Florence Ashby, Terri Ashby and Malita Martin; and uncles: Patrick "Bishop" Swift, Devon "Stetson" Hamilton, Jed "Stacy'" Hamilton, Fitzroy Colin Smith, George Norris III, Devon Prophet, Gregory Morris, Dexter Ashby, Jimez "Boogie" Ashby Sr., Jan Ashby, Dr. Bernard Ashby, Lester Ashby II and Patrick Martin.
He is also survived by cousins: Erica Herbert, Justin Matthew, Monique Swift, Asha Herbert, Isha Herbert, Nadine Swift, Trisha Matthew, Patasha Tracey, Katura Callwood, Ashley Herbert, Jamie Guishard, Jessica De Lyon, Kai Herbert, Kaelani Wright, Chanee Hamilton, Ashley Norris, Danielle Joseph, Courtney Norris, Cheltze Hamilton, Ishmael Hamilton, Amanda Norris, Joshua Hamilton Smith, Meleta Martin, Indira Martin, Isaiah Martin, Jimez Ashby Jr., Jayne Ashby, J'moi Ashby, Jivette Ashby, Cynthia Ashby, Rinesa Ashby, Jeremiah Ashby, Lester Ashby III, Tatiyanna Ashby, Adrianna Ashby, Chariannly Ashby de Rodriguez, Camilla Ashby de Rodriguez and Kelyssa Prophet; and godparents: Katura Callwood, Coleen Norris, Joslyn Joseph Turnbull, Luanne Roberts, Jimez Ashby Sr., Jed Hamilton, Ray Barr and Arthur Barry.
Other survivors include special friends: Clint Richards, Carolyn Pickering and family, Jodi Ann Williams, Donald Cole, PSC staff, John "Shark" Warner, Theodore Manners, members, staff and Instructors of Rising Stars Steel Orchestra, members, staff and instructors of ACJHS Steel Orchestra, students of ACJHS Class of 2020, members, staff and instructors of ACJHS 21st Century After-school Drumline program, and faculty and staff of ACJHS.
Aaron Nicolas Hamilton Ashby took pride in his relationships with family and friends. The family has included many. However, the inspiring fact is that there are too many to mention. Please know that you are in our hearts.
The first viewing is from 3-5 p.m. on Wednesday, July 29, at Turnbull's Funeral Home. The second viewing is from 9:15 a.m. to 9:45 a.m., Thursday, July 30, at Memorial Moravian Church, with funeral services from 10-11 a.m. The burial will be at noon at Western Cemetery No. 3.
Because of COVID-19 restrictions, the service is for family and close friends only. Thanks for your understanding during this difficult time.