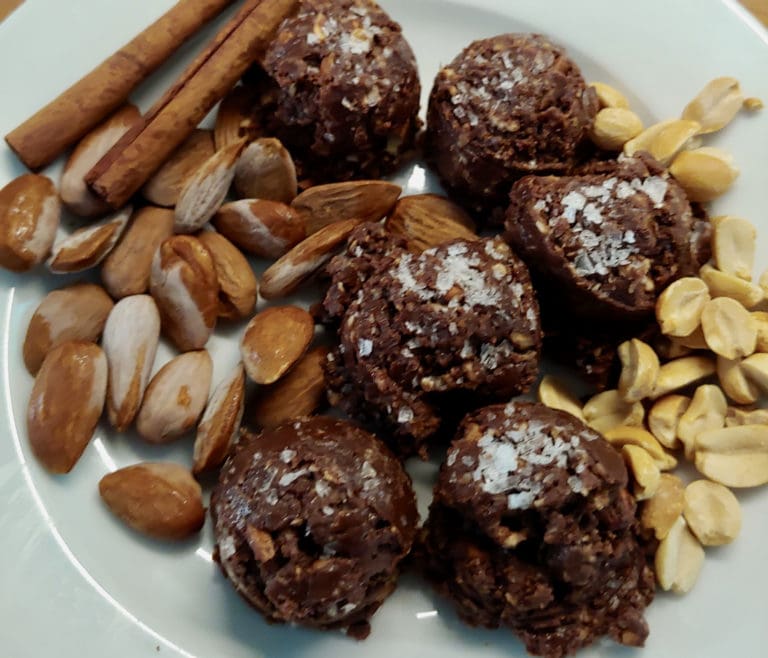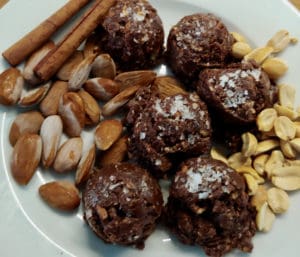 Every person who has tasted one of these so-called chocolate oatmeal cookies has asked for the recipe. Before I give it to you, though, I must warn you they are dangerously addictive and do contain sugar – although they don't have to.
With heart-healthy oats, the miracle spice cinnamon, nut butter and nuts, and of course, dark chocolate, I have been able to convince myself, it is important to eat them for breakfast. OK, you are warned.
Ingredients
3/4 cup dark chocolate chips – at least 60% cacao (Lily's makes chips that are stevia-sweetened)
3/4 cups creamy almond butter or peanut butter – I started out using almond butter, but that costs about twice as much and, frankly, provides less flavor.
2 to 4 tablespoons maple syrup. You could leave this out if you want to reduce sugar. Full disclosure: I haven't
2 tablespoons melted coconut oil
1/4 teaspoon sea salt
1/4 teaspoon cinnamon (I use more)
1 teaspoon vanilla extract
1 cup quick-cooking oats
3/4 cups pecans or almonds roughly chopped
Flaky sea salt (optional) for sprinkling
Directions:
Line a large baking sheet with parchment paper. In a heavy-bottomed medium saucepan, combine the chocolate chips, almond or peanut butter, two tablespoons of the maple syrup, coconut oil, salt and cinnamon. Over medium heat stir with a wooden spoon until the mixture is thoroughly melted.
Remove from heat and immediately stir in vanilla, oats and chopped nuts. Taste and if needed add two more tablespoons of maple syrup.
Using a scoop (a melon baller is perfect for this), scoop out a tablespoon or so of the mixture onto the prepared baking sheet. If your mixture is right the balls will hold together perfectly. Otherwise, use your (sanitized) fingers to form balls.
If you wish, press flaky sea salt into each one and refrigerate.
I vote for the sea salt, it makes the "cookies" all the more extraordinary.
It will take a few hours for them to solidify, at which point I store them in the refrigerator in a glass ball or Mason jar with an opening only big enough for my small hands. (Kidding-ish). Also, I usually double the recipe when I make it.
Cook's note: The recipe is taken and adopted to my specs from the best cookbook I have ever owned: "Love Real Food."