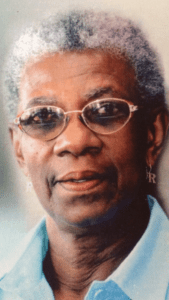 The University of the Virgin Islands (UVI) mourns the death of Ruth Harrigan-Beagles, Ph.D., a retired associate professor of education and chair of the Education Division at the University of the Virgin Islands. She died on July 6.
"On behalf of the UVI community, I extend my deepest condolences to the family, friends and former colleagues and students of Dr. Ruth Harrigan-Beagles," said Dr. David Hall, UVI president. "Dr. Harrigan-Beagles' contributions to UVI were far-reaching, and the impact of her life's work will continue to be carried forward by the generations of students whose lives she influenced through her able instruction and thoughtful leadership. May her dedication to academic excellence continue to inspire us all," he said.
Harrigan-Beagles joined UVI in 1982 as an associate professor of education and became the chair of the education division in 1992. During her tenure, she taught undergraduate and graduate classes and prepared students to take the Praxis Exams as part of their teacher certification. In her administrative role as chair of the Education Division, Harrigan-Beagles served both campuses while continuing to teach several classes. After her retirement in 1995, she remained closely connected to her UVI colleagues, starting a group with other retirees who met regularly for luncheons.
Former UVI colleagues remembered Harrigan-Beagles as someone with very high standards who was extremely well respected.  Retired UVI President Emeritus Orville Kean, described Harrigan-Beagles as a community leader in academic, religious and recreational circles.
"She was a very well-rounded person and excelled in many different spheres of life," he said. Retired UVI Dean of Students Juanita Woods said, "Ruth was loved by all. She treated everyone fairly and didn't care where you came from or who your family was. That was something students loved in her."
Harrigan-Beagles devoted her entire professional life to advancing education in the U.S. Virgin Islands. She received a Bachelor of Science in Elementary Education, a Master of Arts in Speech Education and a doctorate in educational leadership. The first principal of Pearl B. Larsen Elementary School on St. Croix, she was a teacher and administrator in both public and private schools for many years before joining UVI.
A true believer in the importance of community, Harrigan-Beagles was active on many boards, commissions and committees, and she served as secretary of the fourth V.I. Constitutional Convention. In 2015, UVI proudly honored her with an honorary doctorate in recognition of her contributions to UVI and her lifelong commitment to education in the Virgin Islands.
"The UVI community is ever grateful to Dr. Harrigan-Beagles for her many years of dedicated service," said Hall. "To her family and loved ones, we share in your sorrow and in your admiration."