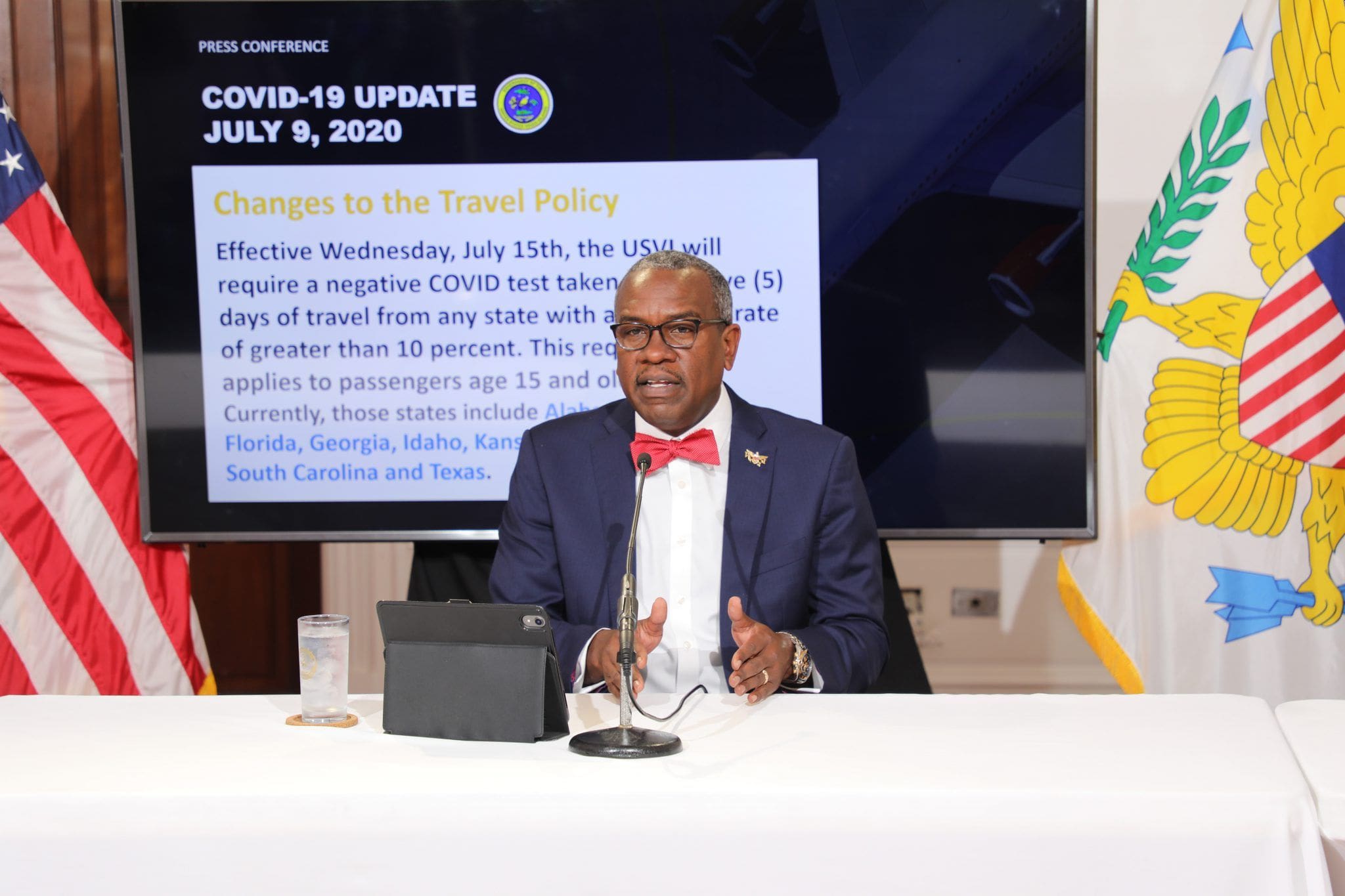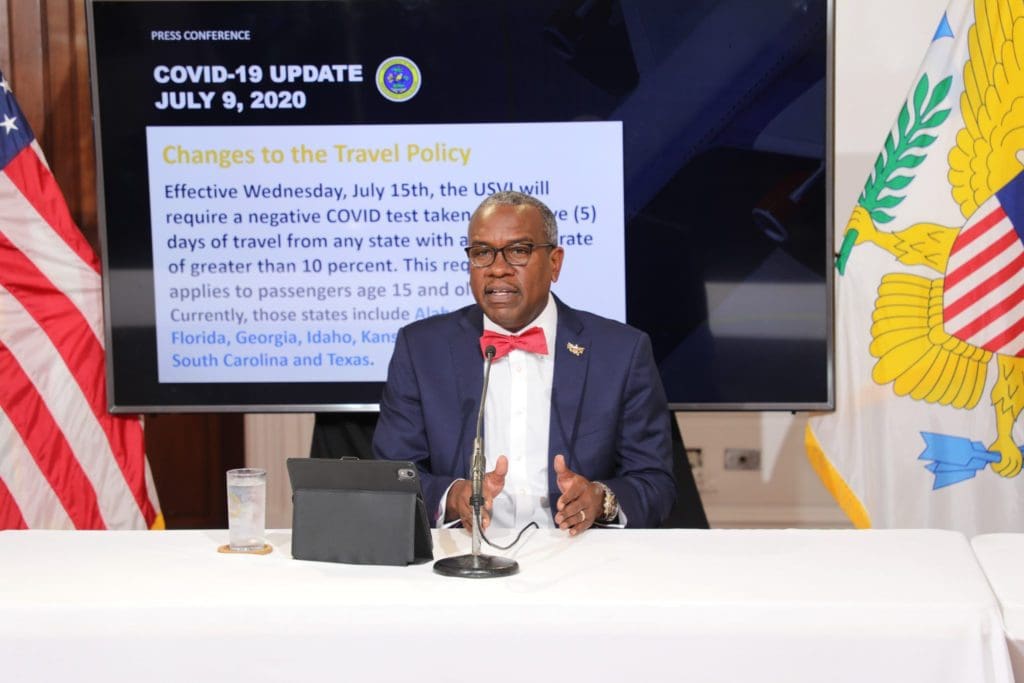 With the number of positive COVID-19 cases up to 153 by Thursday evening, Gov. Albert Bryan Jr. shut down bars in the territory again, extended travel restrictions for 10 states and ordered beaches closed by 4 p.m. on weekends and holidays. Gaming centers and casinos are also closed, effective immediately.
During a press conference, Bryan said 157 tests were conducted Wednesday and, of those, 22 were positive, representing a 14 percent positive rate and an average testing rate five times the previous average, when the territory was conducting about 30 tests per day. Approximately 80-90 tests are now conducted daily, and Bryan said Thursday he expects that to ramp up to about 200 per day. There were 98 tests scheduled to be conducted Thursday and 57 active cases being tracked, among them 13 on St. Croix, seven on St. Thomas and two on St. John.
While there are about 8,000 tests on hand territory-wide, Bryan said the Federal Emergency Management Agency is working to bring more in, along with the machines needed to produce results. At this point, tests are being administered to everyone in need instead of just those most likely to have the virus, the governor said.
The goal is to get the positive rate to about three percent, Bryan said during Thursday's press conference. To do that, three hotspot areas were targeted: beaches, which will now close on weekends and on holidays at 4 p.m.; bars, which are now closed; and the Limetree Bay refinery and storage terminal on St. Croix, which is testing all of its employees and closing off travel for new contractors and contact tracing within the community.
Bryan said that all travelers above the age of 15 coming in from Alabama, Arizona, Georgia, Florida, Idaho, Kansas, Mississippi, Nevada, South Carolina and Texas must also, starting Wednesday, produce a negative COVID test taken five days prior to their arrival or a positive antibody test, or prepare to self-quarantine. A test can be taken in the territory but has to come back negative in order for the self-quarantine to end, he explained.
Meanwhile, restaurants can remain open, but all bars within them – or bars outside – must remain closed, Bryan said.
"There will be no counter service," Bryan said. "You cannot sit or stand at the bar and order a drink. Whether inside or out, there will be no congregating." All sales of alcohol within the territory must also stop at 11 p.m.
Preventing mass gatherings is part of the rationale behind the limited weekend beach hours until the number of positive tests decreases significantly. The governor also discouraged residents from having mass gatherings – above 50 people – at home and advised residents to wear masks as much as possible.
And, should the numbers continue to increase by next week, the governor said his team is looking at the possibility of stopping hotel reservations again and going back to the "Safer at Home" designation, though he stressed the need to maintain a balance between public health and making sure local business owners, front-line workers and residents, in general, have money to take care of themselves and their families.
"Finding a balance between public health and the livelihood of our community is not an easy feat," he said. "It is a fine line and COVID changes that line daily. But tread that line we must if we are to make it to the other end of this pandemic."