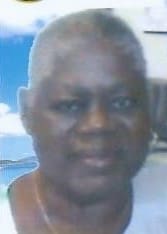 Genevieve Veronica Liburd died on June 17 at the Schneider Regional Medical Center. She was also known as "Miss Genny" or "The Black Cake Lady."
She was preceded in death by her son, Derrick Webson; and brother, Syndia Nedd.
Genevieve leaves to mourn, her husband, David Liburd; four sons: Ivan Roberts, Anthony Jones, Angel and Alexis Liburd; daughters-in-law: Vickie Vasquez-Liburd, Talisa Blyden, Laryene Roberts and Jennifer Webson; grandchildren: Angel Jr., Andre, Aiden, A'Shara and Askari Liburd (St. Thomas), Alaisha, Kalysha, Sha-Nyja, Jahmealiah and Jahziah Roberts (U.S.), Mahershallahasbaz, Solomon, Enock, Abraham, Phinehas, Eva, Abigail, Ruth, Sarah and Hadassah Webson; and eight great-grandchildren.
She is also survived by brothers: Alcon Nedd (Barbuda), Ifield Nedd (U.S.), Worneford and Daniel (Tugu) Nedd (Antigua); sisters: Hyacinth Tongue (U.K.), Sheila Whyte, Camela Nedd (U.S.) and Casilla Webber (Barbuda). brother-in-law, Stedroy Webber (Barbuda); Sisters-in-Law: Thelma and Cynthia Nedd (Barbuda); special nephews: Cody, Derek, Ralph, Randy, Calvin and Max; special neices: Nadine Teague, Kadia Simon, Donella Irish, Cordelia Joseph, Nadine Whyte, Desarie Brookes, Joycelyn Webber; and many more nieces and nephews too numerous to mention.
Other survivors include special godchild, Ruth Rey; friends: Ava Donovan, Inez Edwards, Monaly Lambert, Ms. Rosalie, Joycelyn Williams (N.Y.C.), Ms. Bodelle, Celia Hill, Matilda Warner and family, Zora Leader and family, Sheryl Jones and family, Wendel Walker and family, Amelia and Campbell Rey and family, and Evelyn Petersen and family; cousins: Clarita Blyden, Ms. Mabel, George (Wysinger) Parker (V.G.); and caregiver: Nurse Coliema Maynard.
Relatives and friends are respectfully invited to attend the funeral service on Monday, July 6, at Celestial Chapel of Dan Hurley Home for Funerals and Cremation Center. The viewing will begin 10 a.m. followed by a funeral service at 11 a.m. Interment will be at Eastern Cemetery.
Due to the global pandemic, Coronavirus (COVID-19), and public health guidance, masks or facial coverings must be worn at all gatherings.
Family and friends may offer their support by sharing a special memory or message at www.hurleydavisfuneralhome.com
Arrangements are under the care of Dan Hurley Home for Funerals and Cremation Centers of St. Thomas, St. John and St. Croix.