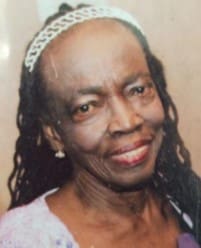 Rehenia F. Joshua died on April 11 in New York City.
She leaves to mourn, her daughters: Denise Russell Prince and La Verne Joshua Smith Mason; sons-in-law: Donald Prince and Samuel Mason; grandchildren: Troy A. Prince, Tashaun Prince, Princess Prince-McCoade, Tiffany Smith Todman, Tasheema Prince, Ajah O. Smith and Taleah Prince; great-grandchildren: Tyanna Prince, Najzhee Prince, Tijah M. Reynolds, Tamia, Amira and Zoi McCoade, De'Aundrey Everett, Ka'Ron, Bryson and A'Jahia Smith, Madison Pearson, Jericho Todman and Princess Prince; brother, Victor O. Frazer; and sister, Blanche Frazer.
She is also survived by nephews: Leroy Frazer, Tyrone (Wabang) Frazer, Keith Frazer, Elijah Petersen, Elijah and Abdul Hodge: nieces: Bianca Dazle, Mariana Ludvig, Joanne Souffront, Lorraine Chinnery, Micaha Petersen, Michelle Frazer, Aisha Thompson, Jacquline Frazer, Rehenia Frazer, Elise Frazer, Denise Frazer, Venice Frazer, Karen Crawford-Frazer Olufemi Francis, Rochelle Paine, Aileen Frazer and Rasheeda Frazer; ex-husband, Leonardo Joshua; godson, Gene Branch; special friends: Lottie Nugent, Carlos Stokes, the "Beach Ladies," and a host of other family and friends.
She was preceded in death by her parents: Albert Frazer and Amanda Blyden Dawson; brothers: Leroy (Shabazz Muhamed) Frazer, Ivan (Cachelle) Frazer; sisters: Cleo Potter and Violet (Baba) Frazer; nephews: Leroy Frazer Jr., Malik Meyers, Dawn Frazer, David Paine Jr. and Alvin Morton; nieces: Deborah Potter and Celestina Muhamed; and great-grandson, Judah Todman.
Celebrations of life will he held to honor our loved one in the near future, both in New York City and St. Thomas, Virgin Islands, and they will be announced at the appropriate time. We, her family, are thankful for your love, prayers and support during this time of grief.