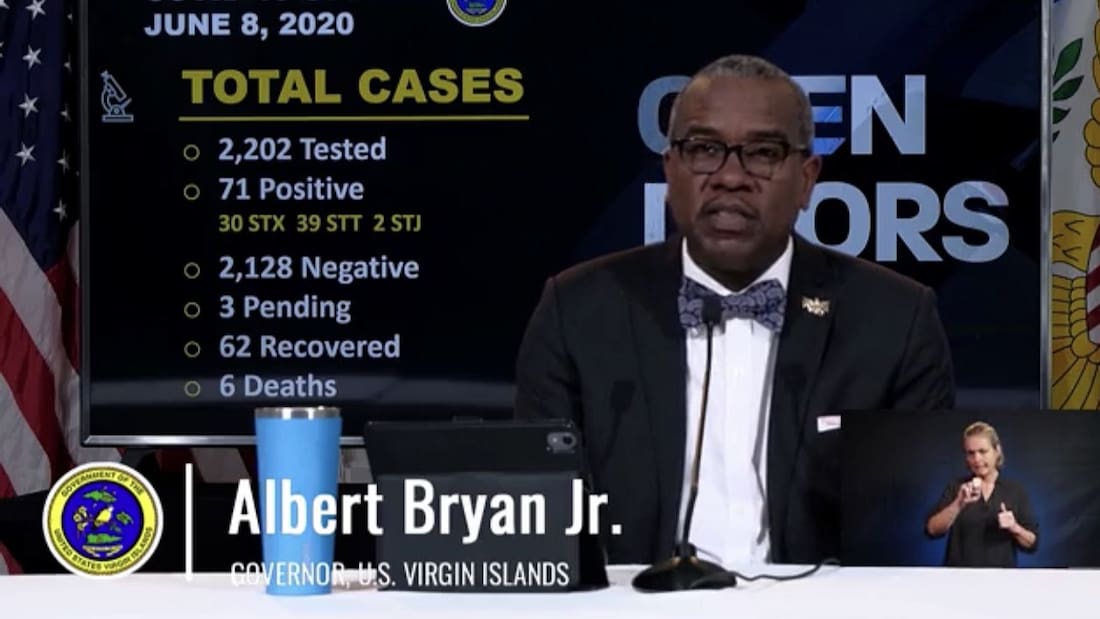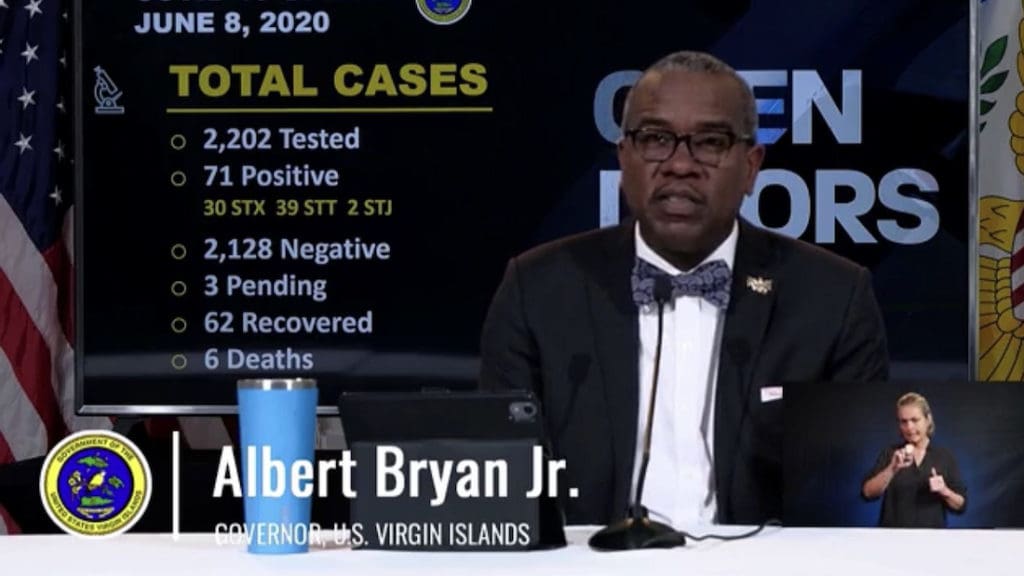 Residents uncomfortable wearing a mask should think about how it feels to be on a ventilator, Gov. Albert Bryan Jr. said Monday as he described encounters with residents over the weekend who were not maintaining public health guidelines while out at bars or waiting in the airport.
"We've been seeing a lot of activity, particularly around bars this weekend, where there were a lot of large crowds and individuals who were not really practicing social distancing," he said during a news conference to update the public on the COVID-19 pandemic. "I need people to understand patronizing these establishments puts you at higher risk than usual. We want to make sure you go out and support local businesses, but you have to practice some measure of safety and social distancing."
And it is not just at bars, the governor said.
"It is everywhere. As I was walking through the airport last week, I had to constantly remind passengers to put on their masks at the gate. We are still in a state of emergency, and we are still vulnerable to the spread, especially inside an airport," Bryan said.
So far, the territory's COVID-19 numbers are still down, but flouting restrictions could move the needle in the opposite direction. Currently, three active cases of the virus are being tracked, but out of 2,202 residents tested so far, 2,128 cases have been negative, leaving 71 positive and three tests pending. What could change the picture, however, is the influx of visitors to the territory now that restrictions on leisure travel have been lifted, and Bryan said Monday that the "good news and bad news" is that flights coming in have been full.
While it is good to see there is still a demand for V.I. vacations, Bryan said airlines are expected to increase the number of flights in per day, which is expected starting July 1 and moving forward. Local public safety and health officials are monitoring passengers, particularly those coming to St. Thomas, and making sure "no one is escaping with any symptoms or fevers," but Bryan said that it is more important than ever for the community to remain vigilant.
Additionally, bars and restaurants will be required to switch to disposable cutlery and flatware starting June 15. Responding to questions asked in the Government House Facebook live chat, Bryan said he understood the additional strain it may put on businesses, but said it was in compliance with the Centers for Disease Control guidelines and important in containing the potential for spreading the virus.
"We are very much into the pandemic, and we want to make sure you keep yourself safe," Health Commissioner Justa Encarnacion added during Monday's news conference. "You are putting yourself at risk if you go into a closed environment. We want to support businesses, but want to make sure that you, too, remain safe."
Bryan also recommended that residents who prefer silverware and glassware at a restaurant to bring their own.
"This is another mode of transmission, it's living in the new world," he said. "If you want silverware and glassware, bring your own. This is what is going to keep you alive."
Separately, Encarnacion said Health and Education officials would be talking to CDC representatives Monday afternoon to get guidance on the opening of schools now that more families are going back to work, and many school calendars have been shifted back to Aug. 10 for reopening.
No one knows what August will look like, particularly as the numbers of visitors begin to increase, and Bryan added that the government is looking at "multiple plans of attack" that plans for the worst – starting the school year with remote learning – but hopes for the best.