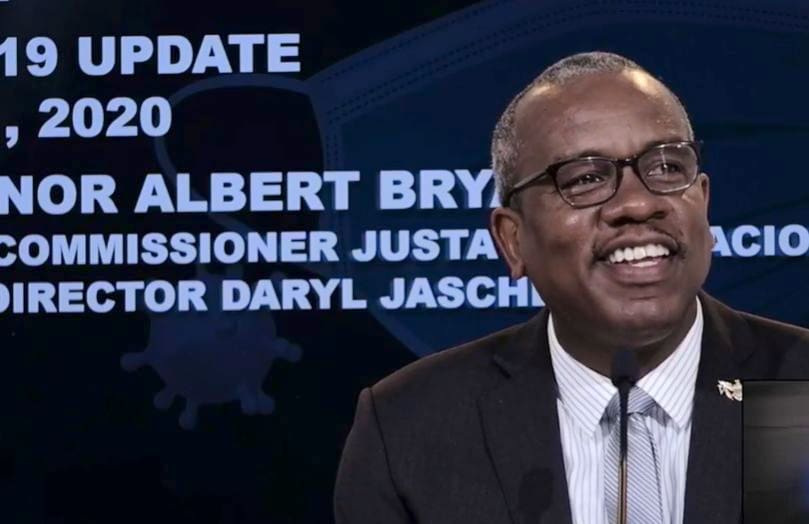 Clarifying reports of delays in the processing of federal economic stimulus checks, Gov. Albert Bryan Jr. said printing has begun, with the first $8 to $10 million in checks expected to be issued this week.
Funds to cover the checks arrived from the U.S. Treasury last week and the government has until December to issue the full amount, which is more than $70 million, Bryan said in his coronavirus update Monday. The government is committed to getting checks out as quickly as possible and will issue $8 to $10 million weekly until all eligible residents receive theirs.
Meanwhile, the government has received to date 8,074 unemployment insurance applications through the Department of Labor and has paid out 3,616 checks for a total of $2.5 million, he said. Labor Commissioner Gary Molloy has appeared in previous news conferences to outline the process, which starts with an online application and ends with each applicant being assigned a liaison at Labor to help track progress.
Bryan also urged local businesses to take advantage of the U.S. Small Business Administration's Paycheck Protection Program, which has benefitted 963 businesses within the territory for a total $144 million. Money from the program is being used to meet payroll, rent and utilities, most of which will be converted to a grant, Bryan said. Businesses can go to their local bank to apply or begin an online application, which also has to be approved through the bank.
"This is $144 million in our economy that wasn't there before," Bryan said Monday.
Testing Capacity Increases
With the relaxing of restrictions on non-essential businesses, Bryan has said this week and last would be a test of the territory's COVID-19 response and phased reopening plan. Helping the effort is an increased ability to mass test and the governor said Monday that 4,000 tests are now on hand and that the numbers should continue to rise as more supplies come in.
Testing for local veterans is available for the next four weeks through the Veterans Affairs Office, two days a week and will be conducted by appointment. For information and instructions before visiting the clinics call 877-413-3400, he said.
The territory is also expected to receive this week a case of the drug Remdesivir, which Bryan said has been "improving the health outcomes" of COVID-19 positive patients. The limited supply is enough to meet the territory's immediate needs, but more is anticipated to come in as production ramps up nationally, according to the governor.
By the Numbers
The territory recorded its fifth COVID-19-related death over the weekend; Bryan said the individual was a resident of St. Croix and the husband of the woman who tested positive for the virus after passing away two weeks ago. As of 5 p.m. Monday there had been 69 positive cases of COVID-19 in the territory, four of which are active and being tracked, including one patient on a ventilator at the Gov. Juan F. Luis Hospital on St. Croix and another patient on a ventilator at Schneider Regional Medical Center, who was a crewmember aboard a cargo vessel that was initially refused entry into Puerto Rico. The Department of Health reported 1,242 cases tested, out of which 1,115 were negative and 58 were still pending.
The governor said Monday the man, who is in critical condition at the St. Thomas hospital, would not have survived a trip back to the mainland and that it would have "unconscionable" to have refused him treatment.
To keep the numbers down, the governor encouraged businesses to comply with ongoing requirements for wearing masks and said that several establishments have been shut down over the past week after repeated violations. He also urged customers to "respect" the guidelines, which have been put in place for the public's safety.
Employers also were urged to give employees wearing masks – particularly front-line workers such as cashiers and tellers – extra time to go outside and get some "fresh air." Rotating shifts can also be helpful, he said.
As the phased reopening continues, Bryan urged anyone feeling sick, exhibiting symptoms, who has traveled or been in contact with someone who has the virus to get tested. Hotlines have been set up through the Health Department at 340-712-6299 or 340-776-1519.
Bryan also took a minute to thank community partners who have helped the cause, including Viya, which gave a large donation of personal protective equipment, and Southland Gaming, whose donation of infrared thermometers were distributed to Schneider Regional, Human Services, the National Guard and the British Virgin Islands. Along with another set of personal protective gear, Brisa Max Holdings added five ventilators to the cache at Schneider Regional, he said.