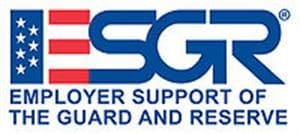 This year, Employer Support of The Guard and Reserve (ESGR) has selected two Virgin Islands employers, Frederiksted Health Care Inc. and Governor Juan F. Luis Hospital and Medical Center, as semifinalists for its 2020 Secretary of Defense Employer Support Freedom Award.
Frederiksted Health Care Inc. was nominated by Sgt. Kerriise Richards of the Virgin Islands Medical Detachment, Virgin Islands Army National Guard (VING). Richards nominated Frederiksted Health Care for its years of support during her military trainings and Hurricane Maria territorial activation.
Master Sgt. Freddie Pimentel nominated Juan F. Luis Hospital for "…consistently supporting my efforts to serve as my career progressed and my responsibilities increased within my unit." Pimentel is a 15-year member of the Virgin Islands Air National Guard.
The Virgin Islands committee of the ESGR congratulates both health providers for their support of military service members in the community.
This year's 143 semifinalists of the Department of Defense's (DoD) highest employer award, commonly referred to as the Freedom Award, were selected from 2,623 nominations submitted by guardsmen and reservists. The group represents large and small employers from almost every industry, as well as from state and local governments. ESGR received nominations for employers in all 50 states, Guam-CNMI, Puerto Rico, the U.S. Virgin Islands and the District of Columbia.
The Freedom Award is the highest recognition presented by the DoD to employers who provide the most outstanding support for National Guard and Reserve members. ESGR runs the program on behalf of the Secretary of Defense, and since its inception in 1996, 280 employers have earned this prestigious honor.
The semifinalists will be narrowed down to 30 finalists. The ESGR National Selection Board, comprised of senior DoD officials and representatives from the Reserve Components, will then select up to 15 employers who will receive the Freedom Award.
For more information about the U.S. Virgin Islands ESGR committee, visit https://www.esgr.mil/About-ESGR/Contact/Local-State-Pages/US-Virgin-Islands.  For more information about the Freedom Award and this year's recipients, visit www.FreedomAward.mil. To learn more about ESGR, visit www.ESGR.mil.