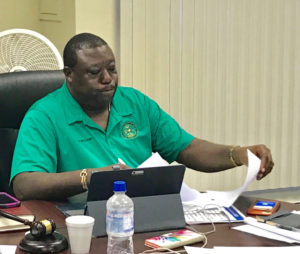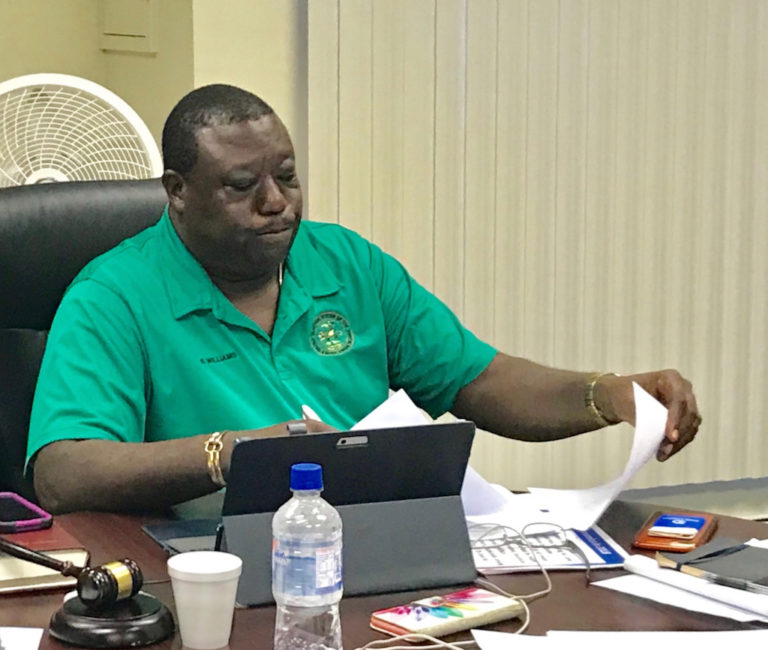 Full of out-of-order talking, yelling and disorder, Tuesday's Board of Elections meeting, held electronically, was unable to get through a single motion without objections and board member interruptions. The Aug. 1 primary will narrow down the field of Democratic Party candidates for the Legislature and other elected positions, before the general election in November. By the time the three-hour meeting ground to an end, the 10 board members present voted on a handful of agenda items for the primary election:
– The process for absentee ballots will remain the same as in past years,
– There will be two polling locations on St. Croix, two on St. Thomas and one on St. John.*
– Voting hours will be extended to 6 a.m. until 9 p.m., and
– Voter registration will have a new process that applies social distancing rules.
Each vote was debated, and no measure passed unanimously. Instead, all were heavily divided.
Most members agreed absentee ballots should remain the same, but three members voted against it because they wanted absentee voters to be able to request an additional ballot should they spoil the first one provided to them. The remaining seven members struck issue with this because some voters may intentionally spoil the ballot.
"I feel though it would be fair to allow them to get an extra absentee ballot if they do spoil the ballot, just like everyone else is given that opportunity," board member Atanya Springette said. "I think it is unfair to say that some people do it on purpose. We can't just assume that."
Ultimately, the members decided to keep absentee ballots the same and not give the option to ask for an additional ballot should an absentee voter fill theirs out incorrectly and need a new one.
All members could agree on the need for multiple polling stations in each district, but some members thought the motion didn't go far enough and needed additional polling stations. Because of the social distancing policy some members felt the lines would be long and more polling stations would be required if everyone who intended to vote came out.
Barbara Jackson McIntosh said there should be three polling stations, one of them on St. John, so as many people as possible would have easy access and no excuse to not vote.
"People have died for our right to vote," Jackson McIntosh said.
After a heavy debate, members were left divided again, five voting yes while the others either voted no or abstained. As a result, each district will only have two polling stations.
The motion to extend polling station hours was also contested.
Members felt that having the stations open from 6 a.m. to 9 p.m. would put a strain on the polling station workers. Once an amendment was offered that would allow for two shifts of workers, the motion passed.
The process for registering to vote was another source of controversy. The idea behind the motion was to apply social distancing rules. According to the board's website, as of May 4, there are 25,436 registered voters on St. Croix; 2,190 registered voters on St. John; and 25,325 registered voters on St. Thomas. A total of 52,951 registered voters in the territory.
Board of Elections Chairman Ray Williams said an eight-foot table would be used, "and the board member would sit on one end and the registrant on the other end. Everyone would be required to wear a mask. They are to provide their documents for the member to review and look at the information to be sure its accurate without touching it."
Though members jumped to other topics and talked over each other, eventually a roll call was taken, and the vote was passed that would establish social distancing practices within the registration process.
Members who voted and were present for the meeting include Williams, Harriet Mercer, Frederick Espinosa, Springette, Alecia Wells, Jackson McIntosh, Lisa Harris-Moorhead, Shikima Jones, Lydia Hendricks and Epiphane Joseph. Absent from the meeting were members Maurice Donovan Jr., Jevon Williams, Arturo Watlington Jr. and Glenn Webster.
*Editor's note: This has been updated to reflect testimony in the Legislature today indicating there will be a polling station on St. John.