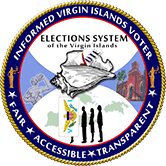 Supervisor of Elections Caroline F. Fawkes issues this third announcement of dates as the Elections office moves towards being open daily for the distribution of Nomination Petitions and Papers for the 2020 Elections and limited processing of forms for services such as party registration changes.
The Nomination Petitions and Papers will be available for pick up at the St. Croix and St. Thomas offices. Because the offices remain closed to public entry, persons must contact the offices before arrival. Please provide the staff member with the person's name, the office the person is seeking or seeking on someone's behalf. A staff member will then prepare a package for pick-up outside of the office.
The contact number for the St. Croix office is 773-1021 and the St. Thomas Office number is 774-3107. The daily schedule for the upcoming week is as follows:
From 9 a.m. to noon, Monday, May 4 through Friday, May 8.
The Elections System encourages the public to stay abreast of official election updates by going to the website: www.vivote.gov