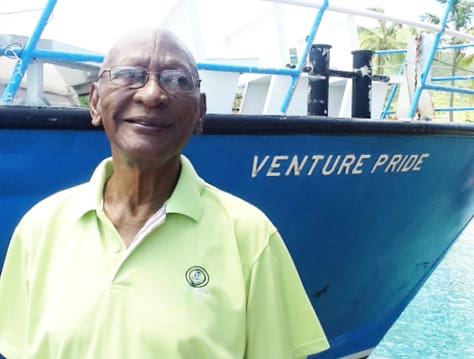 The life of an enterprising and successful Virgin Islander came to an end last week with the death of Rodney Varlack, but his legacy and the impact he had on the islands will live on.
Varlack was the founder of Varlack Ventures and is credited as one of two men who introduced open air safari taxis to the territory. He died April 27 on St. John, according to his daughter.
Friends and relatives remembered a boy born with a mind of his own who relied on ambition and hard work to make his fortune.
Varlack was also known as the patriarch of a large family made up of more daughters than sons. Four of his daughters went on to become Coast Guard licensed boat captains, helping to pilot their father's fleet of ferry boats. Another daughter took the helm of Varlack Ventures, a business providing marine and surface transportation for close to 60 years.
Daughter Delrise Varlack, vice president of operations for Varlack Ventures, said women will always make up a big part of Rodney Varlack's life story.
The story began on St. Thomas, where Varlack was born to Sylvia James and Cecil Varlack. A 1940 U.S. Census record listed his birth date in 1932. While still very young, he moved with his mother to Puerto Rico. When Sylvia died, Varlack returned to St. Thomas, to live with his father.
Education was important in the family, relatives said, and so were daily chores. While living in Puerto Rico the boy learned Spanish and English. Back on St. Thomas, preparing breakfast, pet care and cleaning lampshades were expected before Varlack went off to school.
It was an arrangement he didn't like.
"Not in agreement with his lifestyle, he ran away on many occasions," said a line from his biography, presented in a booklet at a 2018 Father's Day luncheon held on St. John.
The youth sold straps of fish and genips in the market and slept under archways. Sometimes the young Varlack delivered groceries and bottled sodas to customers for 50 cents to $1.
He pleaded with his family to let him attend a boy's school on St. John. Eventually, the bio said, they allowed him. The school in Coral Bay was one of the stops for St. John educator and historian Guy Benjamin, who became a mentor.
Varlack learned auto mechanics and the skills of a machinist. By age 18, he found construction work at a Hilton hotel for $100 a week. After five years he moved on to Tropical Motors and began saving money.
With that money, relatives said, Varlack bought his first truck. In the 1950s, he entered the military, and after his honorable discharge returned to St. John, where he leased property from the Morrisette family and started a garage. He also became a car broker for Toyota.
By then, the transportation industry began to emerge on St. John as tourism grew. Stories told from those times described the practice of businessmen who leased one or two vehicles with an option to buy. They then rented the cars and hired crews to maintain them.
Next came island tours and the birth of the safari bus, with the help of a partner named Tato. Varlack drove the tours himself, adding snacks, sips of "Joy Juice" and scratch band music. The tour buses turned into school buses for morning and afternoon runs.
Proceeds from those enterprises led to the purchase of his first vessel, M/V Mein Kapitan, in the 1960s. A negotiation with the V.I. government produced a franchise agreement to provide marine transportation services. As that segment of the enterprise grew over the years, Varlack continued with other ventures, including ice delivery, wrecker service, transport of the U.S. mail and welding.
Over the years, the marine fleet grew through the purchase of vessels and construction of others. To keep commerce flowing, Varlack Ventures also became the largest employer of St. John youth on island. Several of those workers began with part-time work after school and studies to become licensed boat captains.
And although he retired from the business several years ago, Varlack kept an interest in its operations, traveling on his commuter ferries, conversing with the crews and visiting the dry dock in Sub Base to observe vessel maintenance. He also lived near the company's vehicle yard where school buses and rental cars were cleaned and maintained.
He remained a dedicated patriarch to his 14 children, 33 grandchildren, 26 great-grandchildren and two great-great-grandchildren. Shortly before his death, Varlack enjoyed a quiet sunset in Cruz Bay park in the company of daughter Delrise, a few steps away from the Loredon Boynes Ferry Dock.