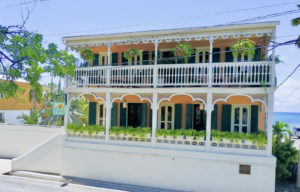 Several U.S. Virgin Islands hotels, resorts, villas and other accommodations have opted to keep their doors open to essential personnel during the COVID-19 outbreak. The USVI Hotel & Tourism Association and St. Croix Hotel & Tourism Association are proud to be able to support our members as they offer this valuable resource to the community in a time of crisis.
The Government of Virgin Islands has authorized accommodations to stay open to house essential personnel, including government workers, relief workers, business travelers and airline associates. Properties remaining open will comply with all government mandates and ensure all services, such as food delivery, are also in compliance.
Properties that have opted to stay open include the following. To make a reservation at any of these accommodations, view the contact information:
St. Thomas
Bluebeard's Castle – 340-774-1600
Calypso Realty – 1-800-747-4858
Emerald Beach Resort – 340-777-8800
The Green Iguana Hotel – 340-776-7654 or info@thegreeniguana.com
Secret Harbour Beach Resort – 340-775-6550
St. John
The Hills Saint John – www.vacationvi.com
St. Croix   
The Buccaneer – 1-800-255-3881 or reservations@thebuccaneer.com
Carambola Beach Resort & Spa – 340-778-3800
Caribbean Breeze – www.caribbeanbreezecondo.com
Club Comanche Hotel – 340-773-0210, 1-888-406-8030 or info@clubcomanche.com
Cottages by the Sea – 340-514-4824 or 340-772-0495
The Fred – www.SleepWithFred.com or 340-777-3733
Hotel Caravelle – 340-773-0687 or 1-800-524-0410
King Christian Hotel – www.hotelkingchristian.com
King's Alley Hotel – 340-773-0103 or kingsalleyhotel@gmail.com
The Palms at Pelican Cove – 340-718-8920 or info@palmspelicancove.com
Sand Castle on the Beach – 340-772-1205 or www.sandcastleonthebeach.com
Sugar Apple Bed & Breakfast – 340-474-1358 or www.sugarapplebnb.com
Tamarind Reef Resort – 340-718-4455 or reservations@tamarindreefresort.com
Villa Dawn at Cane Bay Beach – www.villadawn.com
About USVIHTA: The U.S. Virgin Islands Hotel & Tourism Association is a not-for-profit corporation, which serves as the unifying organization for hotels, guest houses, inns, condominiums, campgrounds and other tourism related business in the St. Thomas-St. John district of the United States Virgin Islands.
About STXHTA: The St. Croix Hotel & Tourism Association is the St. Croix branch of the U.S. Virgin Islands Hotel & Tourism Association. Its goal is to be an inclusive and unified voice of the hospitality and tourism industry. Its purpose is to develop and promote vibrant and sustainable tourism, providing exceptional experiences for the benefit of guests, members and the community. Its organization is comprised of hoteliers and accommodations of all sizes, tour operators, attractions, restaurants, retailers, travel partners, media partners and all of the vendors and suppliers that are connected to the tourism industry on St. Croix.