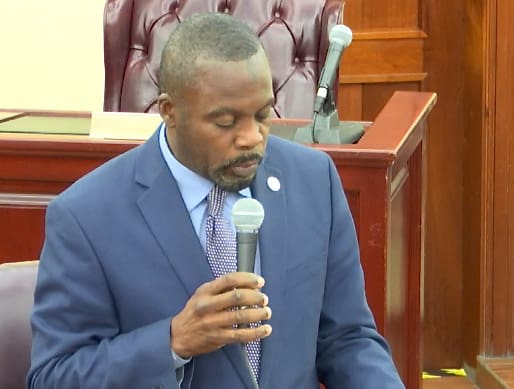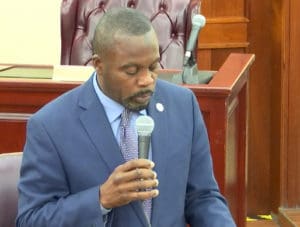 In an unusual move Friday, the Senate, without debate, unanimously approved four nominations from the governor. Senate President Novelle Francis Jr. said the candidates had been vetted through appearances at committees of jurisdiction and the Rules and Judiciary Committee.
The session was an emergency legislative session at which the senators adhered to "social distancing" recommendations. Most of the time was spent on issues to ease the economic ramifications of the COVID-19 pandemic.
Senators spread out their seating arrangements with some senators sitting in the well where nominees would have usually sat.
The nominees approved were: Denise M. Francois, judge of the Superior Court of the Virgin Islands; Celestino A. White Sr., Port Authority Governing Board, District of St. Thomas/St. John; Willard John, Port Authority Governing Board, District of St. Croix; and Dr. Jerry Smith, Government Hospitals and Health Facilities Corporation Board of Physical Therapy, District of St. Thomas/St. John.
Another oddity of the meeting was that four senators attended through video conference and were not counted as present. Sen. Kenneth Gittens said to count them present "violated Legislature rules."
Sen. Marvin Blyden made a motion that the section of the rules requiring presence in the St. Thomas chamber be waived for the meeting. His motion failed to get a second.
On Saturday, Sen. Alicia Barnes distributed a news release lambasting Francis, saying he had wasted senators' time by indicating they could attend remotely and then not making it happen. She said nationally many government agencies were finding ways to use technology to adhere to social distancing rules, but in the Virgin Islands politics kept it from happening.
Attending remotely but not recognized as present were Sens. Barnes and Allison DeGazon, both of St. Croix; Myron Jackson of St. Thomas; and Senator-at-Large Steven Payne Sr. of St. John.
Present on St. Thomas were, from St. Thomas: Sens. Dwayne DeGraff, Donna Frett-Gregory, Stedmann Hodge Jr., Janelle Sarauw and Athneil Thomas; and from St. Croix: Sens. Francis, Blyden, Oakland Benta, Javan James, Kurt Vialet and Gittens.
Another news release came out Saturday relating to another issue from the Friday meeting. A bill requiring the V.I. Water and Power Authority to suspend electric and water service disconnections was taken off the agenda. On Saturday WAPA issued a news release saying it was already doing that.
"The governing board and executive director of the Virgin Islands Water and Power Authority Saturday reaffirmed that the utility will not disconnect delinquent electrical and potable water service accounts for the duration of the COVID-19 state of emergency," the utility's news release said.