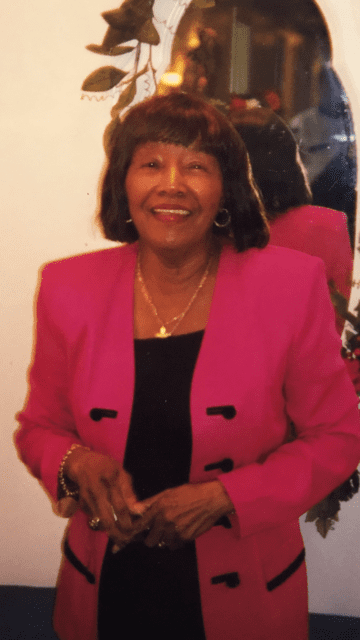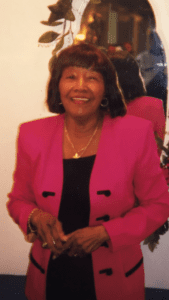 Lyria Baa Gordon of West Palm Beach, Fla., died on March 3.
Lyria was preceded in death by: Eugene A. Gordon Sr. (husband); Edna DeWindt Bonelli (mother); Alphaeus Baa (father); Leona Gordon-Schuster (daughter); Eric Hamilton (grandson); Lillian Baa Harrigan (sister); and Clarence, Bernard and Leroy Baa, and Raymond Bonelli Jr. (brothers).
She leaves to cherish precious memories her son, Eugene A. Gordon, Jr. (Irma); son-in-law, Rexford E. Schuster; daughters: Gladys I. Rissing and Dolorita Gordon-Gay; adopted daughter, Blanche E. Peebles; sisters: Vivian Bedward and Louise Phillips; brother, Joseph (Sonny) Bonelli; sister-in-law, Doris Bonelli; and grandchildren: Eugenia E. Santos, Froilo G. Santos (Janeth), Lyria Rissing-Collins, Dolorita M. Santos-Gookool (Wayne), Alphaeus Russell (Darnaren) and Wade Hamilton (Ursula); adopted grandson, Lee Schmidlin.
She is survived by great-grandchildren: Marrissia C. Matta-Broaden (Christopher), Takara O. McIntosh, Brandon and Ryan Santos, John M. Collins III, Nicole C. Santos, Jonathan Santos, Brianna Laurenceau, Ameera and Antonio Gookool, and Jaiden Z. Russell; great-great-grandchildren: Christina N. Broaden, Jaiden A. Santos and Jace A. Odom; and nieces: Leila B. Bryan, Theresa Clarke, Renee Rose, Loretta Tyler, Yvette Kabotolo, Margo Bonelli, Lee Meller, Amy Moore, Barbara Harrigan Fredericks, Lillian Harrigan-Gumbs, Portia Harrigan-Jackson.
She is also survived by nieces: Lyria Harrigan Freeman, Carmelita and Genevieve Harrigan, Alice Wise, Florine Lang David, Gloria Lang Escobar, Melba and Meline Lang, Raydiance Wise, and Gail, Lisa, Tamika, Leanthe and Raycine Bonelli; and nephews: Myron Baa, Albert Lang, Louis, Bernard and Juan Harrigan, Joseph and David Phillips, Raymond III, Kareem, Darnel, George, Leroy and David Bonelli, Clarence Baa III, Glenn Baa Jr., Darryl Brown; and a multitude of other nieces, nephews and cousins who are too numerous to mention.
Other survivors include special cousins: DeWindt Domingo, Viola, Warren and Allen DeWindt, Yvonne Gordon-Henry and Dante DeCastro (Janet); godchildren: Sue Ramlal Brown, Florine Lang David and Glenn Dennery; special friends: Sylvia Brady, Frances Molloy, Judge Raymond and Gordon Finch, Winifred Schuck, Mario Moorehead, Toya Gumbs, Louise Arnold Clarke, Marie and Albert Schuster, James Family of Anna's Hope, Senator Alicia "Chucky" Hansen, John M. Collins Jr. and Edward H. Russell; retired captains: Adelbert Bryan and Floria Samuel; lieutenants: Merrion T. Jackson and Clarie Holmes; sergeants: Raymond Matthews and Joseph Graham; police officers: Charles Nibbs and Hans (Panchi) Larsen; and detective, Stephen Brown.
Included among specials friends are: Mother Ann Hawkins, Prayer Warriors of Blue Heron Church, Eastern Star Sisters, and members of the Business and Professional Women's Club; Loving and caring caregivers were: Gladys I. Rissing, Dolorita Gordon-Gay, Katrina Hart, Shakera Chavers, Lorraine Smith, Marie Exmond and Ezzieola Jones. Additionally, from St. Croix, Michelle Hurley and Meline Lang provided loving care. Special thanks to: Trustbridge Hospice, West Palm Beach, Fla.
 The family appreciates your support and condolences; however, due to the current situation and mandates, a private service and burial will be held. Your understanding is greatly appreciated.