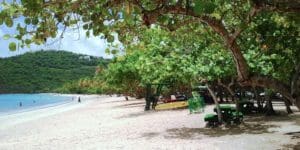 Magens Bay Authority, the operational organization of Magens Bay Beach and Smith Bay Park, has suspended the collection of admission fees on both properties until further notice.
Although Magens Bay Authority has suspended admission fees, it makes clear that this occurrence is not an invitation to visit the beaches. This decision came after an emergency board meeting during which the board and general manager agreed that adjusting operations was necessary in order to allow staff to stay home during the COVID-19 outbreak and adhere to the precautionary measures published by the Center for Disease Control, World Health Organization and the Government of the United States Virgin Islands.
As the beaches won't have their usual complement of staff, the Authority advises individuals they will be swimming at their own risk until further notice. While normal operations are being suspended temporarily, bathroom facilities will remain open and will continue to be cleaned to assist in preventing the spread of COVID-19.
Magens Bay Authority also urges those who choose to visit to maintain social distancing guidelines between themselves and other parties, employ other necessary safety precautions, and, as always, do their part to maintain the beauty and cleanliness of the beaches and parks.