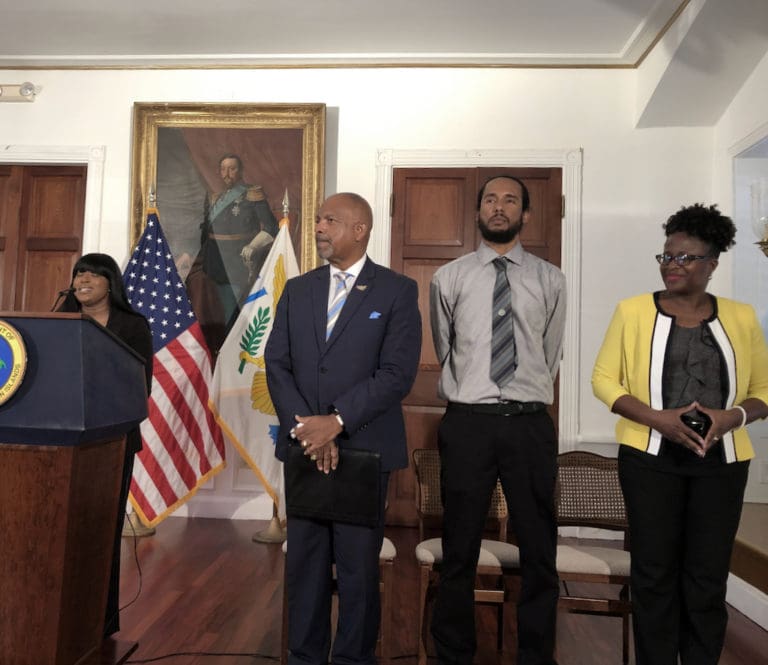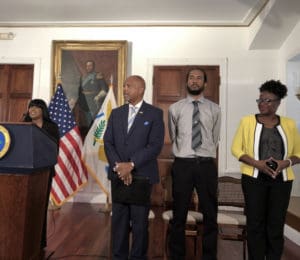 Streets in Frederiksted and Charlotte Amalie have been named or renamed, and within the next year and a half it is possible street signs will pop up throughout the territory, the director of Lt. Gov. Tregenza Roach's Street Addressing Initiative said Wednesday at Government House in Christiansted.
The street naming project was conceptualized a few years ago but didn't go anywhere until Roach picked it up again in October 2019. The former addressing system, based on estate names and plot numbers was organized in a random manner, resulting in confusion.
The Street Addressing Initiative started in Charlotte Amalie and just finished in Frederiksted. The project started in Christiansted this week and they hope to complete Cruz Bay by the end of April.
Once the territory has named streets, residents will be able to transmit correct information to make it easy for utility companies, the Postal Service, delivery services and FEMA to find the correct buildings.
Town halls have been scheduled to answer questions for Frederiksted residents at 6 p.m. Thursday at the Frederiksted American Legion, and 6 p.m. Wednesday, Feb. 26, at the University of the Virgin Islands' Great Hall for Christiansted residents.
"This project does have the potential to bring us literally into a new age," Roach said.
Citizens and homeowners associations have had a chance to help name/rename the streets. Town residents received information packets in the mail with instructions. Property owners who did not get a packet, can call 340-613-6191 or send an email to SAI@lgo.vi.gov.
According to Chris George, director of the Street Addressing Initiative, 60 percent of the streets in the two towns have been labeled. In all, there are 1,500 parcels on each island to be documented, he said. Streets that have a name will not be renamed, he added.
George said once the streets have been titled, he hopes a proposal can be submitted by September for a third tranche of Community Development Block Grants. Finalizing the project with street signs should take eight to 12 months. The total cost is estimated to be $5.3 or $5.4 million, with the bulk of the funding for signage. Local printers will be used, he added.
Through the project, names will be installed on public and private streets, common driveways serving two or more residences or businesses, stair-streets, walkways and sidewalks that provide access to more than one property. Property owners will be responsible for labeling their residences.
Some street names will reflect historic or cultural names. Ecological names, such as plants, birds and animals are also favored. Obscene or names derogatory to any race, creed, ethnic of religious group are prohibited. Duplicates will not be used, even with a different street type, prefix or suffix.
To submit street names, residents can select several names that help identify the area, are easy to say and spell or comprise a cultural or historical list with help from the Historic Preservation Society. Subdivisions can consider a common theme for the area.
The project will accomplish three things, George said: It will create a system providing navigable streets based on national standards; it will record and document the information in a master repository; and it will link the Virgin Islands with emergency systems and utilities.
VIYA, V.I Territory Emergency Management Agency, WAPA, the 911 system, V.I. Police Department, V.I. Fire Service, V.I. Economic Development Authority and U.S. Postal System partnered in the initiative.
Roach offered the services of his office to visit businesses and organizations to talk more about the project.
Denise Johannes, director of Corporations and Trademarks, also announced public meetings for businesses with trademarked names. Because a fairly new file maintenance program, Catalyst, is up and running, users will be able to ask questions about the online registration program and the various functions such as receiving notifications about franchise taxes and registering new trade names.
Currently around 5,000 of 26,000 registered entities are enrolled in Catalyst, according to Johannes.
The Catalyst sessions will be at 6 p.m. at these locations:
– Mar. 10: Frederiksted Administrator's Office at the Arthur Abel Complex on St. Croix.
– Mar. 16: Cleone H. Creque Legislative conference hall on St. John.
– Mar. 24: Omar Brown Sr. Fire Service conference room on St. Thomas.
Johannes said businesses and nonprofits must register with the Corporations Division and keep up to date with franchise taxes. Trademarked businesses must reregister every two years or risk losing their trademark.